Half price!  The annual homeschool day at Worlds of Fun occurred this week.  Every year I hope to take our kids, as they are getting to be the perfect age for enjoying a day at the amusement park.  But even at half price, but that still is around $100 (not including gas $) and does not exactly fit in our budget as we have other expenses coming up. The one plus is that since our kids have not experienced roller coasters yet, they are not begging to go back.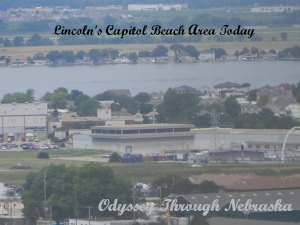 Eighty years ago I could have driven my kids down the road several miles, and they could have experienced a whole day on the midway (including riding a roller coaster) for only a quarter or two.  Did you know that Lincoln used to be the home of an amusement park?  When you see Capitol Beach today, imagining a roller coaster, midway, salt water swimming pool and expansive ball room is a bit of a stretch.  The area is still filled with lovely homes but is much quieter than when thousands used to flock there for week-end entertainment.
Evidently the lake area was the cause of some controversy through the years.  Possibly because the lake itself was created without permission when a dam was built that re-flooded the salt marsh, creating depths of 6 to 7 feet across 1,000 acres.  One would think that hiding a lake would be a bit difficult.  And a bit challenging to oppose – once the water is there, moving it would be rather hard.  But around 1920, they tried by straightening Oak Creek and draining the lake.  Yet certain people must have been determined as a new dam was built that refilled the lake, but again the did not bother with requesting this move – they just did that.  (I wonder how my neighbors would take me turning my backyard into a lake?  Good thing for them that water costs enough that doesn't sound all that interesting to me! 🙂
From 1917 to 1961, Capital Beach was in operation.  Their initial roller coaster was the wooden "Figure 8," and only managed to last for 11 years.  The "Jack Rabbit" wooden structure replaced that and managed to last for 18 years.  According to Roller Coaster Data Base, these were the only actual roller coasters to be a part of the park.  I am not sure if any pictures exist of the "Figure 8."  You can click here to search up three additional pictures of the Jack Rabbit roller coaster in Lincoln. I do know that there used to be other rides as a part of the park, including the one that spins you around the room and flings you to the edge.  The one historian that I talked to distinctly remembers experiencing that one many times.  He is the one who recalls being sent there for the day with $.50 and having more than enough for all of the amusements.  Hard to believe that the edge of Lincoln ever attracted that much attention.  Definitely would have loved to take my kids there for the day.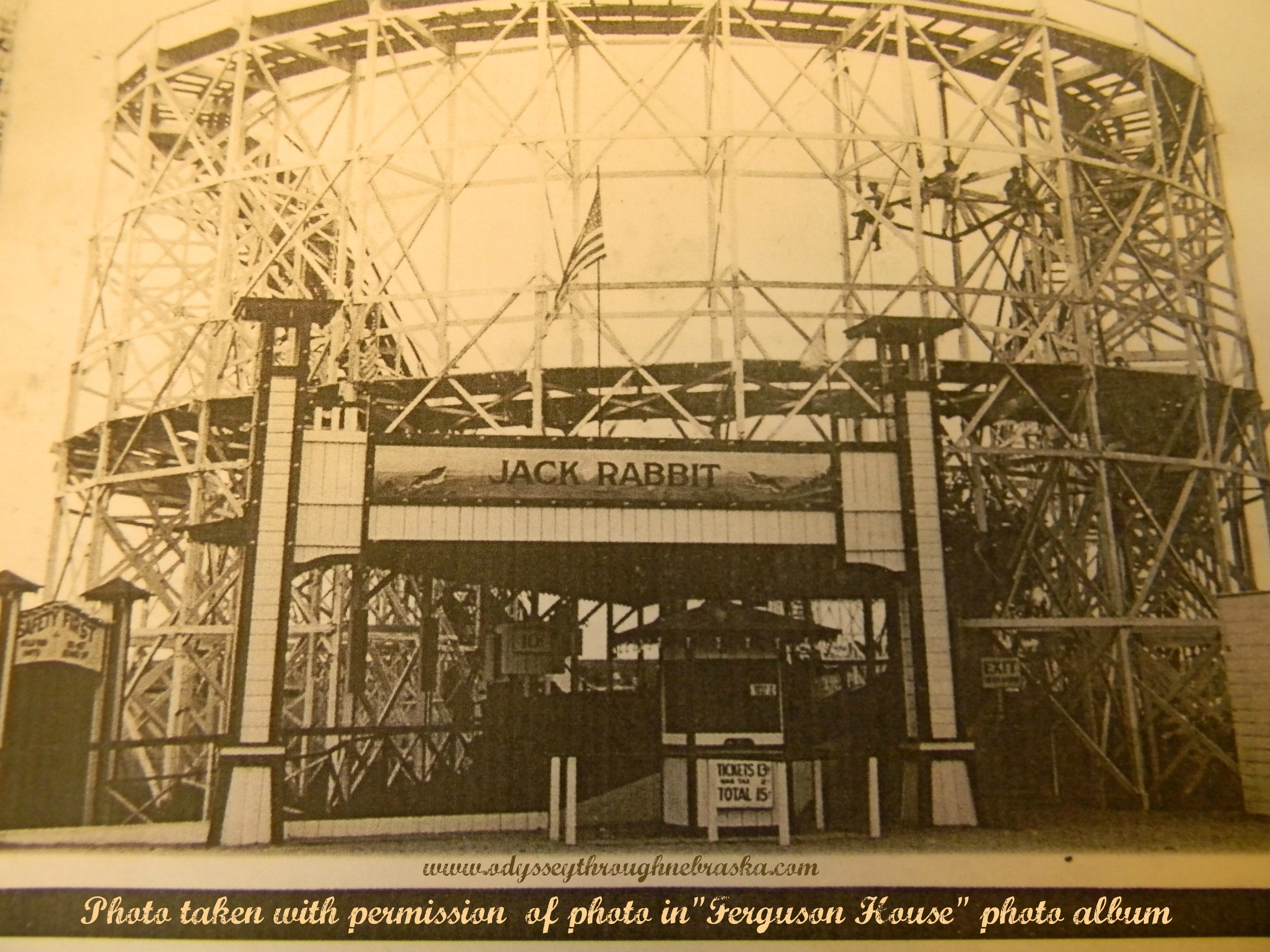 Lincoln was not the only place that had an amusement park with roller coasters.  Peony Park made its home in Omaha until 1994.   Sadly, I never experienced the fun there (we usually went to the bigger parks down in Kansas City).  That must have been common sentiment as not drawing a big enough crowd was the primary reason the park closed down.  This park had a bit of a checkered past as well with having to overcome segregation struggles.  To see a wonderful collection of pictures and learn more about this past park, you can search this Omaha blog.
So, there are no more roller coasters to be found in Nebraska.  (And maybe with potential safety issues, that is okay.)  Evidently this closing of amusement parks is common.  In fact, you may enjoy this picture slideshow featuring abandoned amusement parks from around the world.  Some smaller amusement parks are hanging on across the country and can be seen in the PBS documentary "Great Old Amusement Parks."