Local Places I Wish I Could Take My Kids (That are no longer there!)
Growing up, my Dad used to fly us places.  He had bought a share of a plane (when gas was much cheaper!)  Often we had a destination a few hours away, we would hop in the little plane to fly there, rather than to drive.  When I was in elementary school, they sold the plane, so no more quick side trips.
My Dad renewed his love of flying again several years ago and bought a smaller share of a plane again (once his kids were no longer draining his bank account as much anymore!)  He even trained to be able to fly instrument controls.  Several years ago, my daughter and I were able to fly up with him to the Twin Cities.  My Dad is an extremely competent, calm and skilled pilot.  But all of a sudden I discovered that now that I am mom, flying was not the carefree feeling that it used to be.  I was rather nervous.  Maybe it is a good thing that I write a blog about places we can drive to, rather than ones we have to fly to get there. 🙂
My kids definitely enjoy seeing planes, but only 3 out of 4 have actually flown.  I hope that they won't develop that same fear of flying.  But since most of our destinations are within a few hours, they probably will not be flying very often.  We do have a small Lincoln airport nearby, and when I was teaching school, I was invited to bring my students to the Nebraska Air National Guard on a field trip.  So, flying still exists here, but I have a feeling that the former Lincoln Air Force Base would have been a step beyond either location.
The area of land that was eventually used for the Lincoln Air Force Base (AFB) at first served as an Army Air Field during World War 2.  At the war's conclusion, that base closed, and the runaways were soon taken over by the newly formed Nebraska Air National Guard.  A naval reserve unit also was based there, which is a bit intriguing since Nebraska is a bit landlocked and nowhere near any water.
As the Cold War continued to strengthen in intensity, the need for an additional central air force base became obvious.  Lincoln wanted to be that site, and even re-channeled Oak Creek to make room for a runaway.  In February 1952, an air group was activated to work on the base.  On February 1, 1954, the Lincoln Air Force Base was officially activated.
Almost a dozen squadrons of various military positions were active at the Lincoln AFB.  Their main goal was nuclear deterrence, although this was not a known fact among the general public.  In addition to all of the military personnel now making their homes in Lincoln, ninety B-47's also had their own place in town.
According to the author of the website (Rob Braunting) where I found most of this information, this northwest edge of Lincoln was definitely hopping.
The Air Base was a city in its own right (actually becoming later the 5th largest town in Nebraska). Everything from barber shops to a credit union to a dental clinic made the base great. Swimming pools, a gym, tennis courts, baseball fields and clubs soon made their presence felt as well. "Perry's Pond" otherwise known as Bowling Lake was constructed during the airmen and officers "free time". The lake was dug on the Northwest side of the base and was known for its fishing qualities and boating events.
The various roles of the base did continue to fluctuate throughout the time of the 50's and 60's.  In October 1962 during the Cuban Missile Crisis, the bombers were replaced by new field missiles.  The Lincoln AFB was still playing a crucial role, but that soon changed.  As the Cold War threat went away, so did many air bases, including Lincoln.  Gradually more and more squadrons left the base, then in January 1967, the final group departed.  Lincoln Air Force Base was no more.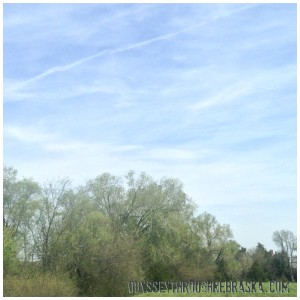 My kids and I drove out to the former base the other day.  This is what we could see.  Traces of airplanes in the sky, but no buildings present nearby to indicat the former life of this park.  While there is still a lot of housing out there, much of the base land has been reclaimed by a park.  You would not even know that a base used to be there except for the memorial sign. (This can be found at approximately NW 40th & Fletcher, out near the Nebraska airport and Air Park Housing Development in Lincoln, NE)
While planes do still land at the nearby Lincoln airport, the jets that used to thunder over Lincoln no longer fly by.  To watch for planes here would have been exciting in the 50's, but there is not enough air traffic in Lincoln to normally make the experience interesting today.  I wish my kids could have seen the Lincoln Air Force Base in its heyday.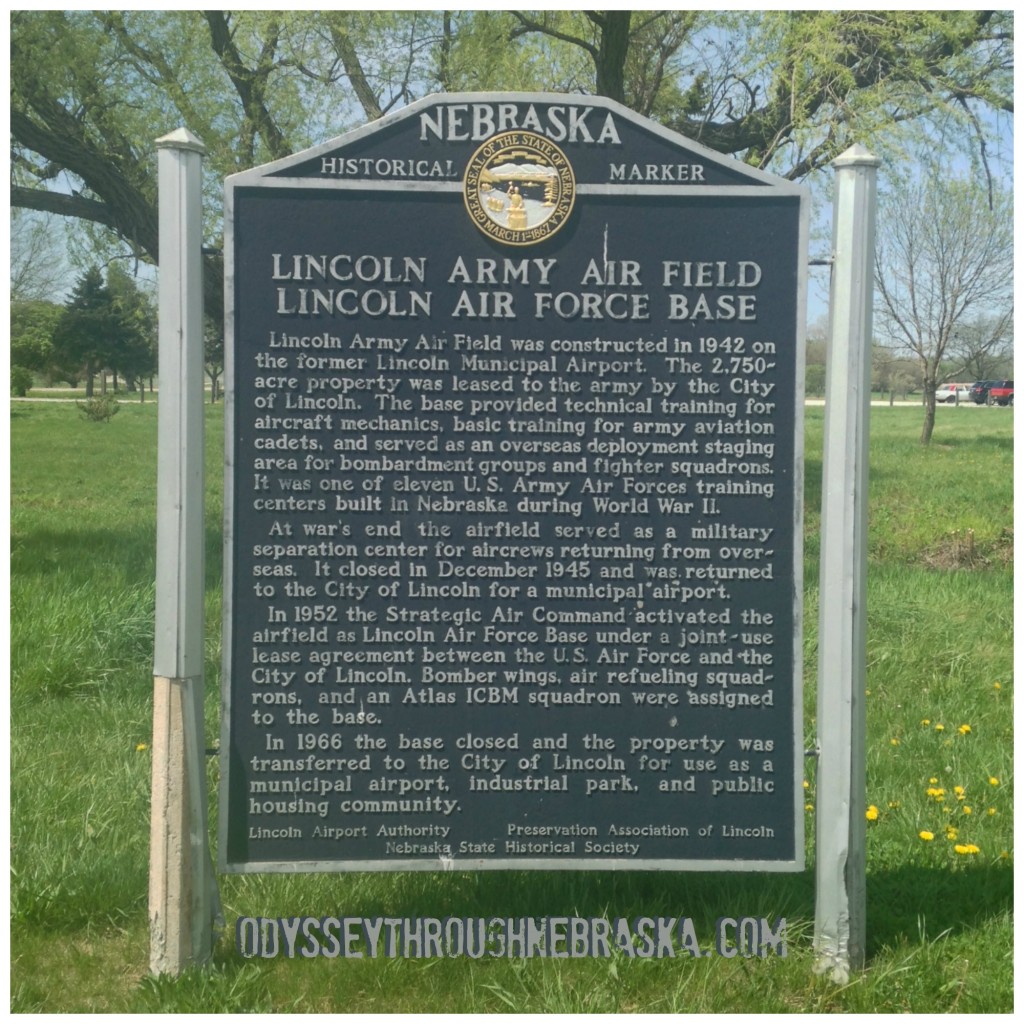 If you are interested in learning more (especially if you enjoy military history), please visit this site.