For the past 134 years, Nebraska has been observing Arbor Day.  While it took several more years for the nation to catch on, what better city to "visit" today than the city origin of the celebration: Nebraska City.  Since today's focus happens to be a community art project that was in honor of trees, this is a fitting tribute to the first "Tree City."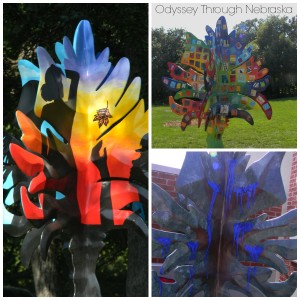 In the fall of 2012, fifty-five artists submitted designs to be included in an exhibit celebrating trees.  Twenty-one submissions were officially accepted, and the artists began to create three dimensional masterpieces that reflected how they felt trees positively impacted their own environments.  In addition, students from the Nebraska City area were given their own opportunity to create sculptures to show how they appreciated trees.  By 2013, twenty-five creations could be seen around Nebraska City, displaying the positive impact of trees in a delightful exhibit entitled, The Enchanted Arboretum.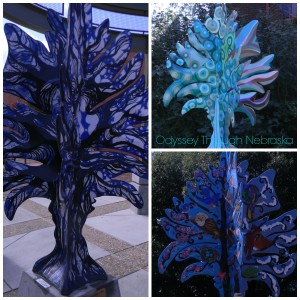 Although the public auction took place that fall, thankfully many of the sculptures were purchased by area patrons, so several have found permanent homes around Nebraska City.  You can still see them on display today.  Supposedly they have an online map of their current locations, but I have not verified if that was updated after the auction.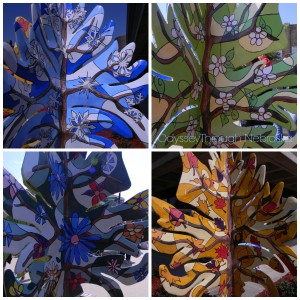 "Elements of Seasons" is one of my favorite pieces since I think that it beautifully captures how a tree changes throughout the year.  This one was created by an artist friend of mine from Lincoln, Ann Williams of Envision Galleries.  Identifying her art project was fairly easy for me since I knew the theme, but thankfully the titles are mounted permanently on the bases of the others.  Sometimes seeing the titles can help one to determine the theme of the work.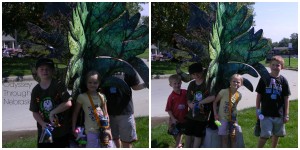 When I return to Nebraska City, I hope I will have time to track down each of the pieces since I am sure that I missed a few.  By taking the time to read each title, maybe I can learn more about each of the pieces.  Our kids also enjoyed seeing these artistic trees and also thought the "hide and seek" element was rather fun.
Additional pictures and stories about the project can be found on the The Enchanted Arboretum Facebook page.  Also, you will definitely enjoy watching this Nebraska Stories segment on the project.