Twenty-six years ago yesterday, my husband's sister was married at First Plymouth Church in Lincoln.  This was over a decade before I was even introduced to my husband, so I was obviously not in attendance.  But, they certainly had a lovely setting for their wedding day.
A door was propped open to the inside of the church, so we took a peak inside.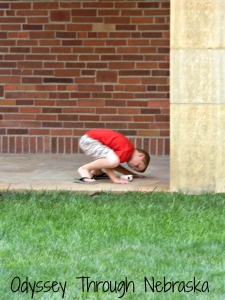 Several weeks ago when my second son and I went to the awards dinner for the Lincoln Passport program, we decided to go a little early.   He wanted to go to some places and take pictures with me.  Since I have started using our actual camera more (as opposed to taking shots on our cell phone), he has been wanting to use his camera more as well.  (Our kids get their own camera when they turn seven.  His SpyGear camera that he requested was not quite as great as he imagined.  Thankfully my parents have an old digital that they have let the kids use!)
When we left the house, I was not sure where we should go for our photo opportunity.  But when I saw the spire of the 1st Plymouth Church, I knew that would be a great destination.  Watching him try to post the perfect picture was definitely enjoyable.  Since this happened to September, the month of the family wedding many years ago, I thought that these shots would be a fitting tribute  So, here are some of my pictures from that enjoyable late afternoon.  We may post my son's later.  🙂  And happy anniversary, Mike & Kami!