Hello,
In case you missed it, my name is Gretchen M. Garrison. Not only do I curate the blog, Odyssey Through Nebraska, I also have had the privilege of writing three books about Nebraska so far.  As an added benefit, I am able to speak at gatherings and tell people more about my books at bookstores. To find out about my upcoming events, please click here.  This page also contains author interviews and links to blog posts that have featured the book.
And now to more information about the books!
My second book published by The History Press. A History Lover's Guide to Lincoln
Available as of July 20, 2020 …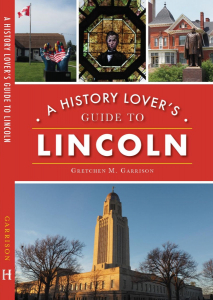 Here is a short video telling more about the book. I read the back cover to you. Riveting, I know! 🙂
In preparation, I have been writing posts to tell you more behind-the-scenes details about this unofficial travel guide to Lincoln's history.   I will link the posts soon!
Coming September 1st, 2020 … 100 Things to Do in Lincoln Before You Die (Reedy Press)
My first book, Detour Nebraska: Historical Destinations and Natural Wonders, became available October 30, 2017 through The History Press.
Available both in local Nebraska stores and on-line, you can find out more details at this link.
This excerpt from the back cover that tells more about the title.
For many, Nebraska is the flat prairie seen from the interstate. Yet with the Sandhills, bluffs and river valleys, the state has an abundance of riches.  The heritage of early Nebraskans is evident. Fort Kearny and Chimney Rock were pioneer harbors. The Fur Trade Museum and The Homestead Monument of America tell of those who came to make a life. Carhenge is a nationally known treasure.  The Joslyn Art Museum  features world-class art, and the Nebraska National Forest is the largest hand-planted forest in the nation.  Native Nebraskan Gretchen Garrison details the places and people that make the Cornhusker state unique.
For more a behind-the-scenes look at the book, check out 31 Days Worth of Blog Posts Featuring Detour Nebraska.