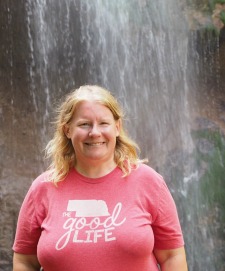 To meet the Detour Nebraska author, Gretchen Garrison, please attend one of these events.
Upcoming Detour Nebraska Events
April 16th 6-7:30 pm Try It Tuesday at Anderson Library – 3635 Touzalin Avenue in Lincoln Nebraska (Presentation on Detour Nebraska)
May 8th 9:30-11 am MOMs Club of Lincoln morning speaker – "Traveling around Nebraska with Children"
Past Detour Nebraska Events
NCHEA Homeschool Conference Workshop March 9th, 2019 "Odyssey Through Nebraska Literature"
Meet and greet at the North Platte A to Z Books on Thursday August 1st, 2018  from 5:00 to 6:00 p.m.
"How Detour Nebraska Came to Be" – presentation at the A.G. Gustafson family reunion on July 7th, 2018 (Thanks to my family for wanting to learn more!)
May 22nd event at the Bess Streeter Aldrich Museum – "Literary Figures Across the Nebraska Map"
May 13th Guest speaker at First Free MOPS – "Traveling Around Nebraska with Preschoolers"
Banquet Speaker at the Nebraska Press Women's Conference in Omaha Nebraska on Saturday May 5th.  Topic "Why Detours are Beneficial"
April 28th, 2018 – workshop presenter at the NCHEA Homeschool Convention – "Teaching Nebraska at Home and Away"
One of many Nebraska authors at the "Go Big Read Booth on Thursday February 22nd, 2018 (my appearance was cancelled due to the winter weather)
Book signing along on Sunday December 17th at 1:00 p.m.  Also appearing at this event, Kim Reiner, author of 

Lost Restaurants of Omaha 

AND

Omaha's Henry Doorly's Zoo and Aquarium

by Eileen Wirth and Carol McCabe Location: Bookworm Omaha 

2501 S 90th St, Ste 111

Local author event at Susan's Books and Gifts in Aurora on Saturday

December 9th, 2017. 

 

Meet and greet on Saturday November 25th 2017  from 1:00-3:00.  Location: Barnes and Noble at 74th and Dodge in Omaha
Family Event at on Saturday December 2nd, 2017.  Location: Francie and Finch Bookshop at 130 S. 13th St.  in Lincoln
Meet and greet on Tuesday November 7th, 2017, starting at 7:00 p.m. Location:  Indigo Bridge Books and Cafe at the Creamery Building  701 "P" Street in the Lincoln Haymarket.  A short picture presentation will be followed with a time for questions and autographs.
Interviews …
November 6th interview on Pure Nebraska
In this Pure Nebraska interview, we learn how a Nebraska woman decided to write a book about the natural wonders and historic places to visit in Nebraska. We learn about the book called "Detour Nebraska."Odyssey Through Nebraska

Posted by Pure Nebraska on Monday, November 6, 2017
May 2018 Radio Guest on the "Lincoln Live" show on KFOR hosted by Dale Johnson
Guest on the May 18th, 2018 edition of  – the NET Radio Program "Friday Live."  While you will enjoy the entire show, if you want to specifically watch my segment, that starts at about the 25 minute mark.
Hear live music performances on this week's "Friday LIVE!" Rascal Martinez, The Kramer Sisters and Paul Siebert will be featured along with events across the state.

Posted by NET Radio on Friday, May 18, 2018
Posts and Reviews about the Book
Review of Detour Nebraska in the Lincoln Journal Star
Olio in Iowa and Detour Nebraska
Detour Nebraska on Drive By Towns
Seven Quirky Nebraska Detours on Wandering Educators
Detour Nebraska Book Review on Midwest Wanderer
About Two new Nebraska books on The Walking Tourists