Has this week's farm nostalgia made you want to visit one of your own?  You must want to be an agritourist.  As more and more people continue to move away from farms and into towns and cities, the desire to connect to the land will grow.
Pioneer Country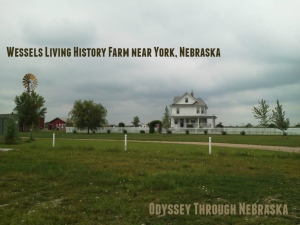 If you long for bygone days, you would enjoy visiting Wessel's Living History Farm just south of York, Nebraska.  While admission is charged, the experience seems to be educational and entertaining, with explanation given as to how farming has changed over the course of the last century.  Here is a description of the experience (directly from their website.
The 145-acre farm now features the home David Wessels shared with his brother. It also features a red, timber frame barn, corn crib, machine shed, garage, chicken coop and a large windmill typical of the 1920's. These structures were chosen to begin the "living history farm" experience. To the south, there is a modern tractor display building with many of the tractors, stationary engines and combine that Dave Wessels restored. Surrounding the buildings is a modern farm operation that is still producing crops.
Another former farm with a touch of history is located in Nebraska City.  Arbor Day Farm has a conservation focus.  While they grow, they want to sustain the land.  Not exactly a traditional farm, but you can definitely have some agricultural experience.
These additional Nebraska locations also can give tours.
 Prairieland Dairy is located just outside of Firth.  Tours are available for a small cost, and reservations are required. They also have annual dairy days every summer.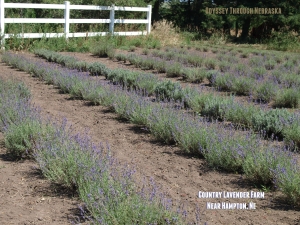 Country Lavender Farm near Hampton brings a unique element to farming.
Metro Region
Farmstead First (2 small family farms combine forces – they especially work with making cheese and other organic products)
Lewis & Clark Region
Niobrara Elk and Buffalo ranch
Sandhills Region
Frontier Trails
Prairie Lakes Region
Panhandle Region
Monkey Ranch Buffalo Tours is located just outside of Kimball.
Perhaps you would like to spend the night on a farm.  These Nebraska bed & breakfasts would provide that opportunity.  If you are looking to purchase locally grown products, Open Harvest in Lincoln has so many possibilities.  In the past, they have connected consumers with farmers.  This may not be an ongoing program, but you can certainly connect with them.
I am sure that I missing many possibilities in Nebraska.  If you know of any more options, please e-mail me at odysseythroughnebraska@gmail.com OR simply post a comment below.