Where I want to go in Nebraska continues to grow.  Due to time (and budgetary) constraints, we just cannot seem to make it to all of the places that I intend to visit.  This is why I am SO thankful that my friends, Tim and Lisa, over at The Walking Tourists were willing to share some of their adventures with all of you!  Because I think that we cannot appreciate our military enough, this week I am highlighting three little- known places across Nebraska that they visited where our armed forces are paid honors.  Here are the three places that were featured in the Wordless Wednesday yesterday.
I must admit that I had to ask where this photo was taken.  I did not realize that Lexington is home to the  Heartland Museum of Military Vehicles.  Looking at the pictures of their exhibits online, I am quite impressed.  Their displays would be impressive for a city museum, much less being found in a Nebraska town.  The next time we head down I-80, this is a location we will visit.  So far the Walking Tourists have not written about this site, but I bet a post will be coming in the next few months.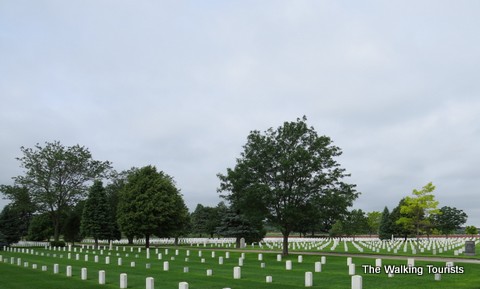 Fort McPherson , located just outside of Maxwell, is Nebraska's only national cemetery. To learn more, please click on the "Walking Tourists" site to learn how "Fort McPherson Cemetery Offers Chance to Pay Respects to Veterans".
America's 20th Century Veterans Memorial is another place that I had not heard about previously.  (Evidently I need to get out more!)  What a great tribute to our military that North Platte is proudly portraying.  Of course, they were the town that served all of the armed forces passing through at their World War 2 canteen, so maybe I should not be surprised at all at this town's generosity!  To learn more, please visit the "Walking Tourist's" North Platte Veteran's Memorial Rivals Best in the Nation.
Stay tuned when tomorrow The Walking Tourists will share a summary of their recent Western Nebraska adventures on this blog.  Not only did they write about their trip, but they are also sharing some of their amazing photographs as well.  Think vacation highlights without the slide projector. 🙂