Czech out the costumes!  Have you ever wanted to experience history as opposed to only reading about it?  The Nebraska History Museum actually has trunks full of artifacts and activities available for families and classrooms to check out.  First we borrowed the archeology trunk where we had fun digging for treasures.  We also "czech"ed out the Czech heritage trunk as well.  We enjoyed trying on costumes when we studied Czechoslovakia several years ago.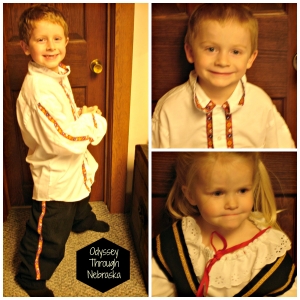 Our youngest was only two.  He was WAY too little this time for the costumes.  But everyone else had fun. Don't you think you should Czech out the costumes for your kids?
What all is inside of the Czech Heritage Trunk
Description is from the Nebraska History Museum website
The Czech trunk provides educators with reproduction Czech objects for use in hands-on activities. Objects include: a feather baster, a cornhusk doll, an egg decorated with the batik method, festival clothing for a boy and a girl, Sokol uniforms for a boy and a girl, photographs, transparencies (of the Czech Republic in 1993, a typical farmstead, a Nebraska map, and a linear village plan), an audio tape for music and dance, video tapes featuring Sokol gymnastics and Czech dancing, and recipe, culture, and tradition books. Eight lesson plans are available on the topics of Czech farmsteads, stories and legends, clothing and costume, crafts, Sokol gymnastics, food, music and dance, and festivals. In addition to the lesson itself, each lesson plan includes background information, objectives, and a list of objects to be used with the lesson. A glossary is also included. Contact your ESU for information on borrowing a trunk. If you are not affiliated with an ESU, contact the Nebraska State Historical Society.  1-800-833-6747, or 402-471-4764 in Lincoln
Two other Nebraska History Trunks
Besides these two trunks, there are two others. Past-times & playthings (Victorian-era toys) and a fur trade trunk.  You can pick up and return the trunks in person or pay a shipping cost.  They are available on a first come, first serve basis.  They also have activity carts that you can enjoy in person at the Nebraska History Museum in Lincoln.