Parts of Nebraska just "celebrated" one of the wettest Mays in history.  Many an event has been affected in including tonight's kickoff to the Lincoln Children's Museum Music and Mozzarella concert series.  Yep, it's been cancelled. Good thing there is three more weeks!  You can check out the link for the rest of the shows.   Compared to certain parts of the country we have nothing to complain about.  But yet a few of the events can definitely be affected by the weather, such as Jazz in June.  For right now, I guess we keep on eye on the clouds and do our best to get in the fun that we can.  Check out some of these of these links for some great possibilities.
Tonight in Lincoln you can attend the First Bite Event to kick off Lincoln's restaurant week.  Next week I will be featuring several of these fine restaurants on the blog.  But if you go out tonight, you can have your own sneak peak.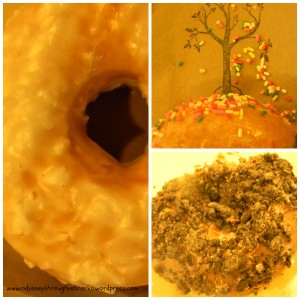 Tomorrow morning is one of our favorite family traditions: National Donut Day.  If you click on the link, you can learn more about the actual history of this day.  Not sure about locations around the state, but LeMars is a good place in Lincoln.  Or be one of the first 200 at Super Saver.  Many places have good deals and fun featured desserts such as the doughnut sundaes you can enjoy all afternoon at The Doughnut Hole.
Celebrate Lincoln is also this week-end with events for the family and also concerts for "older" people. :–
On Sunday, another great annual event is the Lux Center for the Arts Family Fun afternoon from 1 to 4.  Hopefully the art will get to be enjoyed outside like they intended …
Going to Nebraska's largest city?  Check out this list of 30+ fun things to do in Omaha during June provided by Oh My Omaha!
For other events around the state, I am doing best to keep the calendar updated on this site.  At least that is my goal for tomorrow. 🙂