I love, love, love to read.  If you know me personally, this is not a big secret.  Rarely will you find me out anywhere without my Kindle or a book along.  While I may write non-fiction, I definitely prefer stories to relax.  And I have found that reading Nebraska fiction helps me to learn more about Nebraska in a relaxing way.  There is definitely a place for Nebraska history text, but I will pick a story every time. Inspirational fiction is my favorite. 
Now I know that inspirational fiction can get a bit of a bad rap.  For one thing, the plots can sometimes be cheesy or a bit cliché.  (Especially if you are reading a "formula" type novel that comes out monthly.)   But for me, when I finish reading an inspirational fiction book, I usually feel encouraged and uplifted.  With other novels that may not be the case.
As a mom, I do not want to worry about leaving books around.  Mainstream novels often seem to think that language is necessary.  Or that bedroom scenes drive the plot.  Or that gory details are necessary in a mystery.  (My kids already giving me a hard time about liking "murder mysteries."  Reading full fledged descriptive thrillers would not help my case if they picked it up and started reading!)   Just like my kids flip through my phone, they might turn the pages of the book I am reading.  I want to be careful about what I bring into the house.
But let me be clear, just because a book does not have a spiritual element, it does not make it a "bad" book.  But it does require me to preview it before recommending it.  I have several Nebraska novels on my list that I hope to read soon.  (Including the Swan Gondola which is set during the Omaha 1898 World's Fair – a time I find fascinating). I plan on recommending these on a book-by-book basis.  Coming with a "Nebraska Novel" list will take me a bit longer due to that.
But I have created a list of over 100 Inspirational fiction books that are set in Nebraska.   This "Inspirational Fiction with a Nebraska Setting" list is available on my resources page to my community of Nebraska enthusiasts.  Joining us is free.  All you need to do is entrust your e-mail address to me. 🙂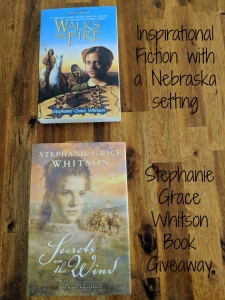 By the way, in honor of my efforts in compiling all of these books, I definitely think a giveaway is in order.  And who better to honor than the woman who has the most books on the list?  Two summers ago, Stephanie Grace Whitson graciously let me interview her.  I loved getting her behind-the-scenes perspective on her books!  Since then, she has come out with her latest Nebraska book.  Messenger by Moonlight will definitely change your perspective on the Pony Express Days.  Because I think that Stephanie's books are wonderful, this time I am giving away the first books in two different series.
Walks the Fire is Stephanie's very first book.  This one came about because she was inspired by a pioneer cemetery near her country home.  Unlike other pioneer fiction, I feel like this one tells more of what being an early Nebraskan would been like.  Hard!  Yet her words still are full of hope!  A big thank you to "Susan's Books and Gifts" for donating this book – I picked it out on a Saturday when all visitors to her store can leave with a free used book.  I promise – the book is as good as new!
Secrets on the Wind is the first book in the Pine Ridge Portraits series.  Set at Fort Robinson, the three part series is definitely enlightening on all of the history that took place in Northwest Nebraska.  I read these right before we traveled that direction, and the books added so much to my experience.
To enter to win one of these books, please comment below on your favorite book that is set in Nebraska.  Not read any Nebraska fiction yet?  Either comment on a book that you want to read on the list.  OR tell us where your favorite book takes place.