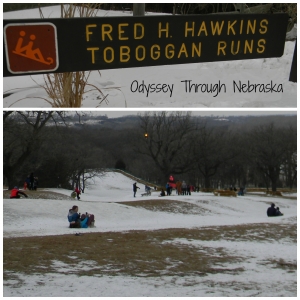 Okay, so we still have Olympic fever around here.  At least the kids and I do.  I think my patient husband has put up with more slaloms, spins and ski splits than he would like. 🙂  I enjoy watching almost all of the sports, but there are many that I would never want to actually attempt.  But I would love to take my kids for bobsled ride.  That is the one Olympic sport, possibly apart from curling, that seems a bit more possible, at least on a smaller scale.  But I am pretty sure that no one would entrust their thousands of dollars machines to us.  So, I settled for the next best thing: tobogganing! The Mahoney State Park Toboggan Runs make it possible for me to feel like an Olympian.
Well, maybe tobogganing is a bit of an exaggeration since we used sleds but still such a fun experience.  Having gone official toboggan runs complete with tow ropes up in Minnesota as a college student, I much prefer this way of just walking up.  Of course, Minnesota tends to have more snow than Nebraska.  But I doubt that you will find too many people in Nebraska that wish for more snow.
The hills were just steep enough to get you out of breath without being so daunting that you are unable to make it to the top without falling a half-dozen times.    The paths were starting to show a bit of brown grass. Thankfully the day we went, the runs had enough snow where you did not get stuck.  Definitely call ahead to make sure that there is enough snow to make the drive up to the park.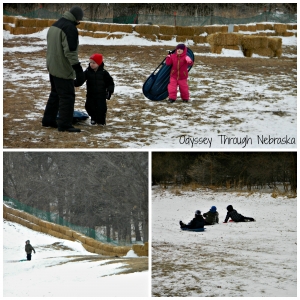 I captured some pictures of the adventurers, then safely stowed my camera away, so that I could join in the fun.  While we did some other fun activities that day, this was definitely my favorite event.  I think my husband and the kids would agree.  We will definitely be returning – a fun AND free event – a year-round park permit is the only real expense.  And a sled, but those can be used other places too!
To enjoy the Mahoney State Park Toboggan Runs …
Since Mahoney State Park is located halfway between Lincoln and Omaha, they are an ideal location.  I could not find the official hours of the toboggan runs, but I do know that they do have outdoor lights.  I would imagine that they are open a few hours into the nighttime hours. They also have a snow machine that they can operate, but your best bet is going a day or two after a big snow.  We may still have a few of those left since February still seems to be the middle of winter in Nebraska.  Happy sledding!
P.S. Mahoney just happens to have an ice skating rink – $2 to get into the activity center and $3 more for skate rental.  Not a bad deal!