If I told you that today's post was about Mueller Planetarium, you would probably wonder where that is.  Even if you are from Nebraska.  But if I told you that this was located inside of Morrill Hall, the museum found on the campus at UNL, the one with the giant mammoth out front, I bet you now know exactly where I was talking about.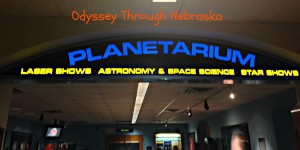 We had been members of Morrill Hall for awhile before I managed to visit this planetarium.  The night we went was rather fun – a special program premiered featuring Nebraska's own Stringbeans.  This very fun local musical group created a show in honor of their new album debut.  Looking up to see a show is certainly reminiscent of seeing actual stars and was quite enjoyable.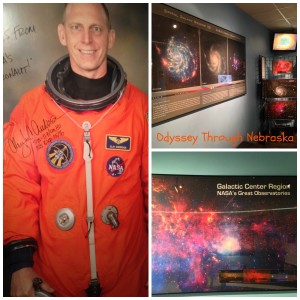 What is great about the planetarium is that learning about space takes place even before walking inside of the dome area.  Clayton Anderson, Nebraska's astronaut, is prominently featured.  Meteor, nebulae, planet details and more can be found on posters lining the walls.  Facts that are "enlightening" about all that is beyond this world.
Although usually they have a show or two with features that are suitable for children, but they can also be much more studious.   As a part of View Space program, they are often bringing special programming into their location.  In fact here is some information, directly from that site, that tells all about some of their opportunities.
Mueller Planetarium is the only Nebraska member of the Museum Alliance sponsored by the Jet Propulsion Laboratory outreach office. In this capacity, Mueller has been the conduit to release new programs and discoveries for both public and schools. Examples include public satellite-fed events for the landings of the Mars Exploration Rovers and the recent orbital insertion of the Mars Reconnaissance Orbiter. Mueller was one of three locations participating with the prime science investigators and Arizona State University programmers on final configuration of a simulated flight over Mars' Valles Marinaris. Later Mueller again was one of two locations teleconferenced to test special visualization software for MRO to be used in similar locations.
Although Mueller Planetarium is found inside of Morrill Hall, an additional admission fee is required to view any of their shows.  The best deal is for members – their entrance is only $2.50.  Everyone else needs to pay $3-4 extra to see the programming.  Once you have seen a show or two, you will be convinced of the value.  To find out about what shows are currently being offered, please click here.