Winter in Nebraska can sometimes be mild. Rarely do we have huge accumulations of snow. But we definitely have cold. Especially when wind plays a factor. Surviving Nebraska winters with kids can definitely be a challenge. After all, they tend to go a bit stir crazy. Which eventually causes you to wonder why you do not live in tropical weather. But as a mom of four kids, I promise that you can make it through. Here are some of my favorite posts that feature some affordable ways to handle the cold.
Surviving Nebraska Winters with Mahoney State Park
Although I have not been to very many state parks, I do probably have a favorite.  Mahoney State Park!  Although many visit during the summer, I think winter might be even more fun!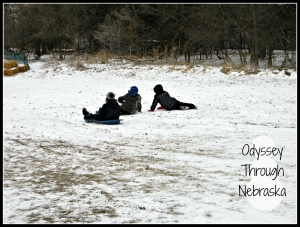 For one thing, they have a huge indoor playground that charges minimal admission.  Because the equipment is fairly open, even older kids will still have fun.  A few things to keep in mind … they are rarely open during the week when school is session.  Plus it can get rather crowded at times.  If you have kids that would rather be outdoors, they will enjoy the attached ice skating rink for an additional fee.
For more outdoor fun, check out their toboggan runs.  Visiting the park the day after it snows is highly recommended!  If the snow has been around for awhile, there might be a few grassy spots that make the experience a bit bumpier.
Surviving Nebraska Winters with Soup
When you get a bit of cabin fever, going out to eat seems like too much effort.  That is where if you live in Lincoln, Zoup can come handy.  This place serves so many soups that change daily.  And they cater.  You can order hot soup for 4 for under $15.  And your meal comes with bread.  Now they do have a $15 delivery charge, but if you are desperate, this may not be a bad option.  Although I will say that dining in is rather enjoyable since they allow you to sample a kind or two before you order.
What are your tips for surviving Nebraska winters with kids?