Right now, I am finding it difficult to believe that tomorrow is the last day of 2017.  I must say that this year passed by in a blur.  Writing a book and trying to move plus keep with all of your family's regular activities will do that to a person I guess. 🙂  2017 has been a great year to be a Nebraskan.  With our state celebrating its sesquicentennial, so many great activities have been happening across the state.  While technically the 150th year still has two months to go, I am guessing that there will definitely not be the emphasis that there was in 2017.  This makes me rather sad and nostalgic.  I wanted a way to commemorate what this year has meant.  Enter Triple B Screen Printing.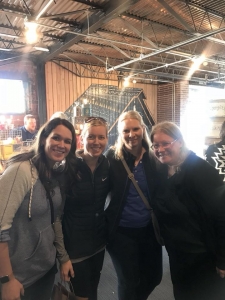 On Sunday December 10th, we had a fun sister's outing.  My sister, sister-in-law and her sister all went down to check out "Love the Locals" event.  We had fun wandering about and looking at all of the possibilities.
That was the point at which I discovered Triple B Screen Printing.  He had a great display of all sorts of shirts featuring fun t-shirts.  Some referenced Iowa. (Or should I say insulted our neighboring state a bit 😉 )  Many more referenced Nebraska.  As I am always looking for fun Nebraska t-shirts, I actually had a tough time narrowing down the possibilities.  But when I saw the '67 t-shirt, I knew that would be the perfect reminder for the sesquicentennial year for me.
To order your own Triple B Screen Printing treasure …
I am quite confident that if you visit the Triple B Screen Printing website, you will want to order a t-shirt of his own.  He has quite a few creative possibilities.  (One note: you might some 'splainin' to do on a few of the shirts as a few sayings are a bit more adults than kids.  So scroll through carefully.)   Definitely do your exploring today as I found out that ALL of their shirts are on sale through this week.
Get some Christmas money? Get crappy gifts and want to treat yourself to something fun? The Post Holiday Sale at https://t.co/8LufJHLq32 is the answer to your problems. Save 30% (!) all week with code XMAS17 at checkout. pic.twitter.com/R4MWY8xhM1

— Triple B (@bbbprinting) December 26, 2017
You can also check out (and like) their Triple B Screen Printing Facebook page That is a great way to find out about their theme shirts. Including some great national championship volleyball shirts!
Enjoy your last full day of 2017 tomorrow. Bring on 2018!