Like many writers, I also LOVE to read.  I would happily whittle away many afternoon hours at libraries or book stores.  That is why I am quite surprised that it took me so long to stop by the bookstore in Seward.  I have driven by Chapters Books and Gifts many times through the years, but I have always been on my way some place.  In a hurry.  Finally I took the time to stop by.
What I noticed first is the large section of Nebraska related books that are found in the first section of the store.  All summer long they have been encouraging people to read from the Nebraska 150 book list.  Although their contest is finishing tomorrow, there is no reason why you cannot continue reading through some of the books on the list.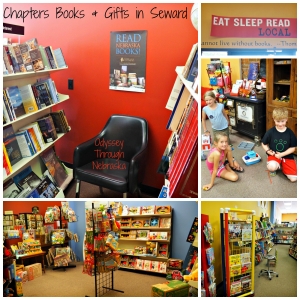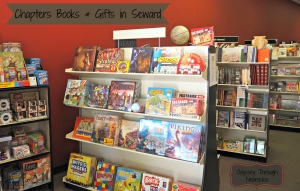 Besides having a great selection of books, they also have a wonderful collection of games.  And activities.  As you can see from the picture above, this time I was accompanied by my two youngest along with one of my dearest friends and her daughter.  All three of the kids had lots of fun playing at the store.  I loved the fact that she had toys set aside in the back for kids to interact with and enjoy.  We definitely stayed at the store a bit longer because they were distracted.  This allowed this Mama more time to look around!
My kids also had fun picking out lots (and lots) of activities they wanted to bring home.  To avoid buying out the store, I took many pictures of items they wanted.  Since I tried unsuccessfully to smuggle out one of the items that they wanted that was on clearance, I now have an excuse to return back there by myself.  Being able to look again at the items without my kids providing quite so much input might make the process easier anyway. 🙂
Keep updated on Chapters Books and Gifts Events  …
To learn about upcoming events at this wonderful store, you will want to follow Chapters Books & Gifts on Facebook.  You may also want to sign up for their email list.
You can also place orders anytime at the  Chapters Book and Gifts Online Store.  And stay tuned.  The owner of the store donated a fun book for our upcoming giveaway gift basket!