Sometimes even when a call is made to a wrong number, the person on the other end is actually the right person that you need to talk to.  A few weeks ago, I was heading out west for a bridal shower.  I knew that I wanted to stop at least one of the two Nebraska passport locations found in the Aurora downtown square.  When I noticed that the photography studio was closed, I was a bit sad.  A few years ago, I had a lovely conversation with the photographer when I was preparing for my "Art Across Nebraska" talk.  But I consoled myself that at least the décor store was still open.  Since my time was limited, I called ahead.  The nice lady said that she would be waiting for me and to look for her truck parked out front.
The Photographer
When I arrived in the Aurora downtown area, I could only see one truck.  And that one was actually in front of the photography studio.  Evidently I happened to call her when she had made a quick stop back at work.   I was excited to finally get to meet Jana.  One does not have to look very long on her The Renaissance Fine Art and Photography in Aurora website to be impressed at what a fine photographer she is.  Her framed photographs around the studio also demonstrate her expertise.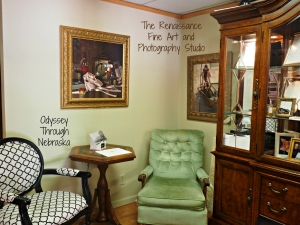 Why am I excited that that the Renaissance Fine Art and Photography is a part of the Nebraska passport program?  Because not only is Jana Van Housen a wonderful photographer, her studio is a place where you will want to stay awhile.  Her cozy corner symbolizes relaxation.
The Photo Booth
Not only that, Janna has found a way for her customers to have fun when they stop by her Aurora downtown studio.  If you look carefully at  the middle right picture in the photo collage, you will see a glimpse of the old-fashioned photo booth.  This booth can be rented out for parties.  This allows friends to schedule sessions for impromptu pictures.  And if you stop by for a Nebraska passport stamp, you and the members of your party can have your picture taken together.
The Artist
Besides being a photographer, Jana is also an artist.   In addition to selling paintings, she also teaches group and private art lessons.
The Giveaway
A big thank you to Jana for her donation of several photograph notecards for our gift box giveaway that will be happening later on this week.  The next time that I am in the area, I definitely plan on stopping by again.  I want to purchase some more notecards for myself.  Her photographs capture the small town beauty of downtown Aurora.
Another Aurora downtown Nebraska passport stop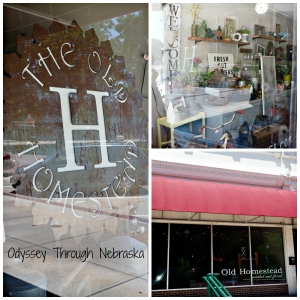 As for Aurora Floral (now known as Old Homestead Market and Floral), well, that trip I had to be content with peeking into the windows.  When I checked the Nebraska Passport said they closed at 2.  Actually they close at noon on Saturdays.  (Now the hours are correct on the site!)  Yet another reminder that calling ahead is a good idea.  As one of the "Warm Welcome" sites, you can get a stamp at either Aurora downtown location, not at both.
P.S. You can stop at Edgerton Explorit Center on the eastern edge of town for an additional passport stop.  Plan to stay for several hours.  As you can see from this post, this is one of our favorite places to go in Nebraska!