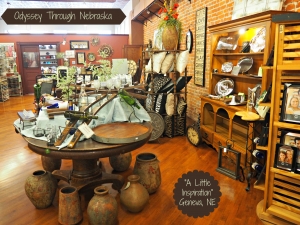 Always good to start a Monday with a "Little Inspiration." If especially if this beginning involves an inspiration for home décor and gifts!  From the moment I stepped into this store in Geneva, Nebraska, I knew that I would want to linger.  Artfully arranged décor is everywhere.  If I had taken the time to write down what I admired.  My wish list would have been rather long.
From traditional to modern to vintage to rustic, there is a little bit for everyone.  Somehow they have managed to merge it all together and create a beautiful showpiece.  Unfortunately I was under a time crunch, so I was not able to linger as long as I hoped.  Looking at their current Facebook pictures, I know that I will want to return every season.  They manage to keep the merchandise fresh and interesting.  I appreciate the variety of choices, and I am certain that I could have filled up the back end of my car.  I am pretty certain my husband is grateful that my time to shop was limited.
What else makes a stop at this store a great idea?  The fact that it is a Nebraska Passport stop.  In the video below, co-owner Harold provides the answer to the question on the Nebraska passport.  A well-known man used to own the building that their lovely store is in now.  Watch to learn more, then stop by the store to hear the whole story.  We visited for at least 20 minutes.  I enjoyed learning more about the town of Geneva.  And I definitely will feel the inspiration to visit again.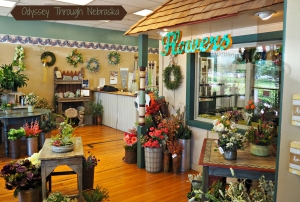 Besides owning "A Little Inspiration," Harold and his wife, Karen, own the store next door, Geneva Floral.  At this adjacent storefront, you can go home with fresh flowers and more.  Isn't this a darling place as well?
To learn more …
You can visit the social media sites of both  "A Little Inspiration" and Geneva Floral.
A Little Inspiration and Geneva Floral
A Little Inspiration on Facebook
And stay tuned – the folks at "A Little Inspiration" kindly contributed to the gift basket giveaway that I have planned for Friday.  Make sure that you remember to get a stamp in your passport when you stop by!  To learn more about other stops on this year's Nebraska passport as well as additional 2017 Nebraska travel recommendations, please check out this post!