The time has come to introduce you to Nebraska by Heart Art Volume 2. What is so great about the Nebraska by Heart project is that fact that all participants started with the same basic shapes.  A large poly heart and a Nebraska poly base.  But everyone's application of the project definitely varies.  On the actual website all of the artists tell their inspirational stories behind each project.  While part of me wants to tell you a portion, having you being able to read the whole thing makes more sense.  So for this Heart Art Volume 2 edition, I will tell you my impressions instead.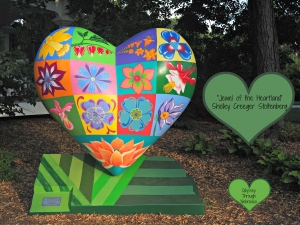 Jewel of the Heartland by Shelley Creeger Stoltenberg is found near the "front porch" on East Campus.  Shelley is a horticulturist, so her impression of flowers will be different than the average person.  For me, I simply notice the bright and complimentary colors.  For Shelley, each flower is a masterpiece that she has possibly tended in her own gardens.  The fact that this heart is found on the edge of a garden area makes it even more meaningful.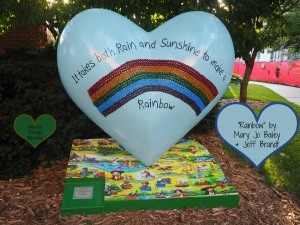 Rainbow by Mary Jo Bailey and Jeff Brandl reminds my kids of M & M's.  Of course it reminds me of the former Skittles "Taste the Rainbow campaign.  (Maybe we were hungry?)  This might be one of the most intricate hearts.  Both the heart and the base seem to be separate works of art.  Yet they are tied together.  The Nebraska base shows many iconic Nebraska figures.  People who faced both good times and bad as they settled here.  Both rain and sunshine.  This heart is found on a side road on the UNL East Campus and is definitely worth the detour!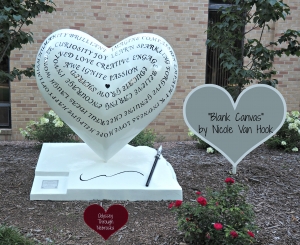 Blank Canvas by Nicole Van Hook As a teacher, this heart definitely inspired me.  All of the words in the heart tell about character qualities that teachers hope to inspire in their students.  The fact that the heart is basically blank with a pen next to it is the reminder that we are all a work in process.  We are each given an empty slate – we can choose the words that define us.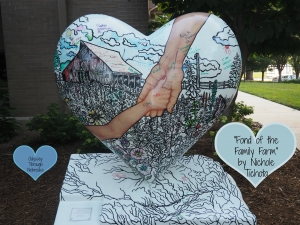 Fond of the Family Farm by Nichole Tichota might have been my kids favorites.  This artist had a brilliant idea to connect the public to her art.  Washable markers are down the below the art.  Visitors can add their own touch of color to the sculpture.  According to the website, the barn drawing is based off of one that was once owned by the artist's family.  You will have to click the link to learn more of her connections to this personal piece.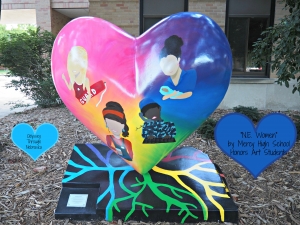 I greatly appreciate the fact that this work of art was developed by students.  N.E. Women by Mercy High School Honor Students. I am not sure if it was their inspiration or if it was the idea of their art specialist, Jane Langenfeld.  Too often Nebraska women can see a limit in their potential.  This heart is a reminder that every girl deserves a chances to go after her dreams.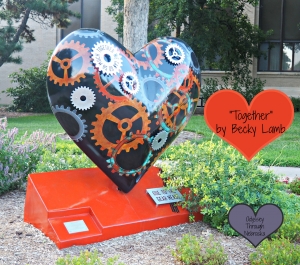 At first the title of this heart confused me.  Together by Becky Lamb seems to have more to do with moving parts.  But this artist's work is an ode to the gear heads in her life.  You will definitely want to read more about her inspiration!
More Nebraska by Heart to come …
Did you enjoy seeing pictures from Heart Art Volume 2?  Next time, we will finish up the University of Nebraska East Campus area art.  There will be many more hearts to come in the downtown Lincoln area.