About eighteen months ago, I introduced you to the newly updated and improved Nebraska History Museum.  Finally today I explored the museum with my children.  This great museum is only about five miles away from our house.  Yet we still do not manage to visit as often as I would like. Next week, I plan on showing you some more pictures of the Nebraska Unwrapped exhibit.  But for today, I wanted to introduce you to another wonderful part of the museum.  You can find many wonderful Nebraska items at the Nebraska History Museum Landmark Store.
There are many wonderful things found inside the store …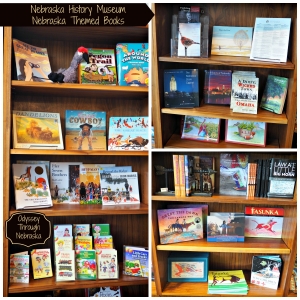 First, they have a wonderful selection of Nebraska books.  Most of the titles are non-fiction.  Many tell the stories of long ago Nebraska history  Some of the titles have to do with Nebraska travel.  (I found out my book should be available at the store!) Children's picture books are available.  If the topic involves Nebraska, chances are good that it has found its way to this store.  Although please do keep in mind their focus in history.  This is not the place to find very many Nebraska novels.
Second, they have a vast assortment of gifts.  Some are Nebraska items made right here in our state.  Some represent Nebraska.  Others present nature at its finest.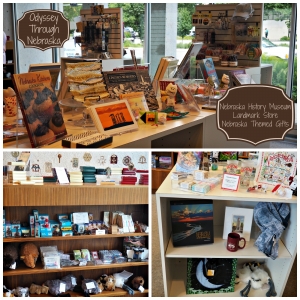 Third, they have a fun collection of Nebraska items and novelties. From whimsical magnets to arrowhead necklaces, the options are plentiful.  Even a deck of playing cards show pictures of Lincoln's "olden" days.
Fourth, they have many available Nebraska items that are keepsakes.  A collector's magazine from The Nebraska History Magazine.  Collectible sesquicentennial medallions and coins are on display.
Other ordering options
Not planning on being in Lincoln anytime soon?  Many of the Nebraska items can also be purchased online  They have a wonderful collection for anyone who is a fan of Nebraska!