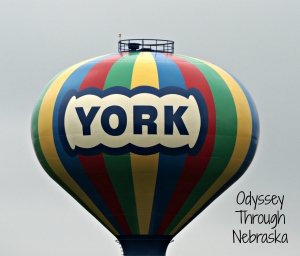 For years, the York Interstate 80 exchange has been one of the most recognized exits on this long section of road.  Growing up, this stop always symbolized McDonalds and getting to see my Aunt Perky who lived near this exit during my younger years.  Now for my family, this is the symbol that we are close to Grandma & Papa's.  I know that the general public may not have quite the same connection.  Yet for the past few decades, people remember this stop for another reason.  Their water tower that is located right by the exit is painted like a giant hot air balloon.
In honor of this recognizable landmark, York introduced a unique public art project.  .  Fifteen area artists were given the opportunity to create art on a five feet high sculpted water tower.  (Incidentally – these sculptures were created by Icon Poly, one of the 2016 Nebraska passport locations that we greatly enjoyed visiting last summer!)  What else is fun is that they created smaller versions of the sculpture that kids were able to create.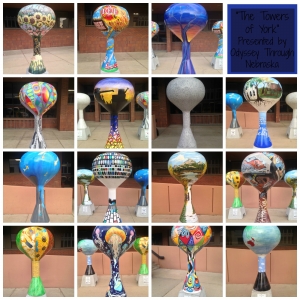 All summer, the water towers could be seen all around York.  Now all of the "full-size" ones can be found in front of the York City-County Building, so you can see them all in one location.  I believe that the student versions are still in their original locations, but you may want to check before driving around York.  Originally I was going to list the titles and creators of the all of the water towers.  But if you click on The Towers of York page, you get to learn more about the creators.  And see them pictured next to their work.  That is much more meaningful that a numbered list.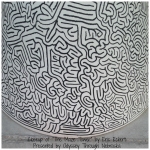 If you click on the collage picture, you should be able to see the water towers a bit better.  Some of them also looked rather amazing.  One definitely needs a close up.  The "Maze Tower" is so intricate that you cannot truly appreciate the pattern unless you are up close to the sculpture.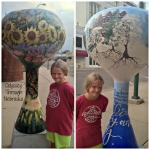 My husband and youngest son enjoyed the view from the minivan.  But my daughter and I had fun walking among the towers.  We both decided to pick favorites.  That was tough!  She narrowed her choices down to two.  Mine ended up being "The Challenge," partly for its detail and partly for its subject matter.  That is the water tower in the feature image, and I tried to give you a different view than is featured in the collage.
About one month left for the water tower public art display …
These water towers will be auctioned off on October 12th.  If one really catches your eye, take note.  For the right bid, you can have your own York water tower.
P.S. For more public art that can be seen right now across Nebraska, please check out the "Nebraska by Heart" series that can currently be seen in Lincoln.