Welcoming.  That is the perfect word for the Arrow Hotel in Broken Bow.  Whether you are traveling solo or as a large family, there is a place for you at the Arrow Hotel.  Our family was recently given a free night's stay at this historic hotel, and I definitely plan on staying there again someday.  Here are some of the ways that I found this hotel to be welcoming.
The Welcoming New Spaces
We were hosted in one of the suites in the Arrow Hotel East.  This new building opened in 2017 and is welcoming visitors with more of a traditional hotel feel.  Since I had my four kids along, I appreciated the fact that there were two queen beds plus a couch.  The sitting area was a definite bonus.  We did not feel crowded which is unusual when we all travel together.
What my children appreciated the most: there were two televisions.  When you have two tweens and two teens, they are not always interested in the same shows.  My two oldest watched in a movie in the living room area, and I got to watch kids tv with the other two.  (One fact that no one tells you when you become a parent is the fact you basically lose control of the remote control unless you want to stay up really late!)  If you do stay up later with your kids, there is a coffee maker and a microwave in every room in case microwave popcorn is on the menu.
If you do stay in the new Arrow East Hotel, definitely request to be on the balcony side.  The lovely table for two looks out on the quaint town square.  What a peaceful way to start the day.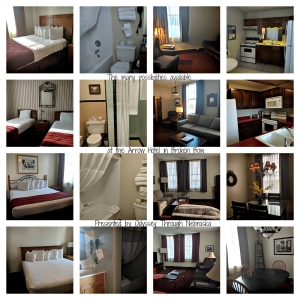 The Welcoming Historic Spaces
Although I only looked at our room on the East side, the helpful cleaning stuff let me take pictures of many of their suites.  Since the original Arrow Hotel was once apartment buildings, every single room is actually suite.  Sitting areas and kitchenettes are a part of every room.  Depending on the suite you request, you could also end up with multiple bedrooms.  When our family travels together finding a hotel room that does not involve at least one person sleeping on the floor or tripling up is challenging.  Dividing into two rooms is not always financially feasible or enjoyable. My husband and I definitely prefer to stay in the same room.  At the welcoming Arrow Hotel, everyone has a place to sleep and to sit.  Several of the suites even have two bathrooms.  The price is affordable, and the stay is preferable to splitting up into different rooms.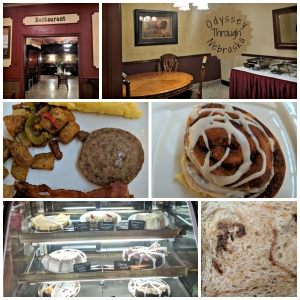 Welcoming Appetites
If you travel often, you may end up with the same type of food at every location.  This is not the case at the Arrow Hotel.  Their free continental breakfast is welcoming visitors with freshly made food on a rotating menu.  The day that we stayed the options included large cinnamon rolls, marbled toast, actual scrambled eggs, potatoes with peppers, both sausage and bacon along with yogurt and fruit.  Plenty of fuel to start your day.  Because the dishes are prepared on demand, the kitchen staff does take a bit longer to prepare breakfast.
Although breakfast is prepared automatically,  you can order off the menu for lunch or dinner at the Bonfire Restaurant.  Their dessert case looked quite tantalizing.  If my kids would have not been along, I definitely would have ordered cheesecake for breakfast!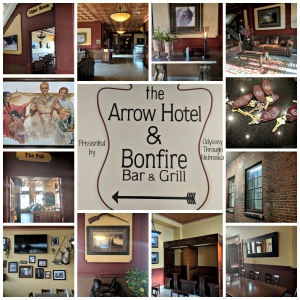 Welcoming Surroundings
Since the Arrow Hotel is over 90 years old, there is a lot of charm that you do not find in newer locations.  Featuring a wild west theme, the décor is welcoming and friendly.  My favorite part might be the saddle.
The Arrow Hotel is welcoming to all sorts of visitors.  The "cowboys welcome" sign is always on the front door.  When we were there, the big motorcycle rally was taking place in Sturgis.  Many bikers did stay for a night or two.  The hum of motorcycles filled the morning air.  Eating with a variety of visitors was rather nice.  If you are going to be eating in the same room as strangers, that might as well be interesting ones.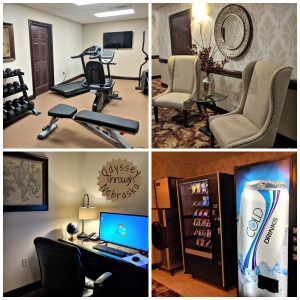 Although the Arrow Hotel is welcoming, they do also have your safety in mind.  To get into the original Arrow Hotel rooms, one must have an actual key.  Although the Arrow Hotel East uses key cards for room entry, these cards are used for more.  In order to get into the elevator or even into the stairs, a key card is required.  Not just anyone can walk into this building – only registered guests and staff.  Guests can access the elevator access inside the parking area underneath the new hotel. 
Welcoming Ammenities
Before only on-the-street parking was available, so this covered lot is a definite perk. Since we arrived when it was raining, we were glad for the cover when unloading our Odyssey.  Because the lot is also open for entrance on one end, guests do not feel like they are parking in a scary basement.  I felt fairly secure walking down to get one last thing from the car right before bed.  Hey – I read mysteries and watch television – in this day, you can never be completely off guard.
Besides being welcoming to a variety of travelers, the Arrow Hotel does also have some of the typical amenities that can brighten up your stay.  The Arrow East Hotel has an exercise room.  If you are not staying in this side, you can check out a key card from the front desk to head over to the newer building.  Although all of the rooms seem to have a desk area, there is a small office with a computer that travelers can also use.  If prior arrangements are made, guests could temporarily turn a one of the enclosed dining rooms to a meeting room.  When I was a kid, finding the ice machine was always a big deal.  Children can rest easy – both hotels have ice machines and snack/drink machines.  Now that I am a mom, I am usually ready for rest.  Both hotels also have seating areas for tired travelers.
A Welcoming Location
If you are interested in staying at the Arrow Hotel, you can call (308) 872-6662 to make a reservation.  You can also learn more about how the Arrow Hotel is welcoming travelers on their website, and you can make online reservations there as well.  For fun, I tried to make an online reservation.  Once you type in your details, a list comes up of all of the available rooms with the prices included.  No guessing or wondering how much the cost is going to be.  Although the prices are higher than discount chains, everything is so nice and spacious. You like you are on a retreat as opposed to room where it is barely nice enough to sleep.   If you do happen to stay there after this post, I would appreciate if you told them that my evaluation was helpful.  Since they were so kind as to host me, I am hoping to send many travelers their way.  Actually I really am excited to go back there again myself!
Although they are located right along Highway 2/92, the traffic is not very heavy at night.  Even as a light sleeper, I did not notice anything.   The Arrow Hotel is conveniently located right off of the town square.  Across the street, there is a great playground and a gazebo.  Around the square are many unique stores for the shopper. Plus the Custer County Museum is there for the history buffs.  On the edge of the Sandhills, the Arrow Hotel is welcoming travelers to a whole new world of Nebraska.