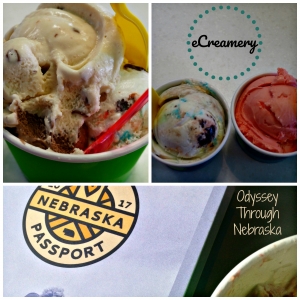 Looking for a sweet way to start participating in the 2017 Nebraska Passport program?  eCreamery serves ice cream in Omaha and provides a delicious way for you to get your first stamp.  This ice cream parlor is located near 50th & Dodge Street in the Dundee  part of Omaha.  Established in 1894, this charming neighborhood beckons the visitor to want to explore more.  Someday I hope to go back and wander from shop to shop.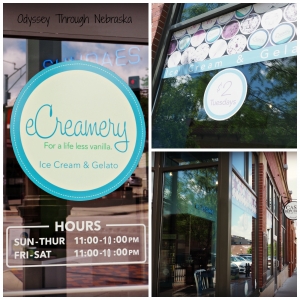 eCreamery Sweet Beginnings
Now back to the ice cream in Omaha.  eCreamery was started ten years ago by ice cream enthusiasts Becky App and Abby Jordan.  Their concept was unique, and people far beyond Nebraska have noticed them.  While this store is their only actual location, you can place orders for their ice cream from anywhere.  They have been mentioned in so many magazines and gift guides that they have a wall of honor.  On their website, you can also read about the mentions.
eCreamery Flavors
Everyday eCreamery offers 16 rotating flavors of ice cream, gelato and dairy-free sorbet.  And yes, they do allow you try a sample or two before ordering.  I could not resist sampling the avocado gelato – that seems to be a local favorite.  Although I did like it, I went with the brownie batter because sometimes a girl needs chocolate.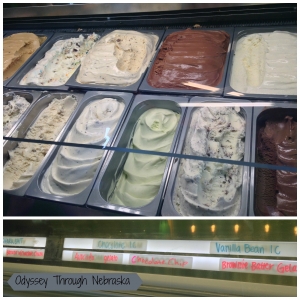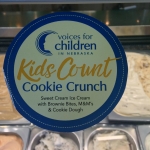 Well that was half of my concoction.  The kids and I all had a scoop of their "Voices for Children in Nebraska Kids Count" flavor – Cookie Crunch.  (That was a mouthful to say and an even better mouthful to eat!)  With sweet cream ice cream, brownie bites, M & M's and cookie dough, this specially created flavor might be a favorite of kids both young and old.  I definitely would order that again.
Our last day of school ice cream tradition
Why did our family drive 50 miles to get ice cream in Omaha?  We were celebrating a special occasion: our last day of school for the 2016-2017 school year.  That means we eat ice cream for lunch.  Now that my kids are older, two scoops are necessary and the promise of snacks to come!  Keeping too many traditions beyond the holidays is not always possible for our busy family.  But when our oldest was in kindergarten, we started having ice cream for lunch to end our school year.  We have managed to keep this up! Once every May, we forgo the sandwiches and eat dessert first!  eCreamery was a perfectly sweet ending to our school year!