Welcome to Nebraska, 2017 College World Series baseball fans. While your welcome has possibly been a bit stormy, we hope you enjoy your stay in our fine state. And eCreamery has a sweet way to welcome you to town. You can participate in the World Ice Cream series 2017 and support your favorite team by buying the flavor that represents each team!
This year's signature flavors!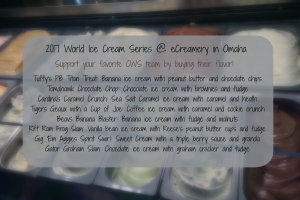 These are the eight teams that are participating in the 2017 world series. Each of their signature flavors are following the name of the school.
Cal State Fullerton Titans: Tuffy's PB Titan Treat (Tuffy is the mascot)
Florida State Seminoles: Tomahawk Chocolate Chop
Louisville Cardinals: Cardinals Caramel Crunch Sea Salt
LSU Tigers: Tigers Geaux with a Cup of Joe
Oregon State Beavers: Beavs Banana Blaster
TCU Horned Frogs: Riff Raff Frog Slam
Texas A & M Aggies: Gig 'Em Aggies Spirit Swirl
Florida Gators: Gator Graham Slam
They will be serving these flavors for the next week and a half during the series.  The more you order, the more that your team will move ahead in the World Ice Cream Series.
Will the World Ice Cream Series winner also take home the college baseball trophy?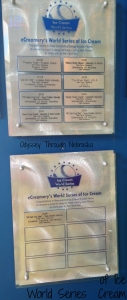 Now eCreamery wants you to know that the winner of their contest may not actually win the College World Series Baseball games.  In fact, TCU seems to be the frequent world ice cream series winner, and they did not win the baseball college world series last year.  But you can hope that by ordering lots of ice cream, somehow that will help your team to win!
How about you?  Do you have a particular team that you are cheering on to victory in the College World Series this year?  Which ice cream kind would you like to try the most?  Please comment below on your thoughts about this contest.  Hopefully the flavor represents your favorite team.  If not, I'll never tell.  Whatever kind sounds the best to you, I do recommend that you participate in the World Ice Cream series 2017.  This is a delicious excuse to try new flavors!
Note: If you are unable to visit the store in person, online orders count as well.  Go, team!