Visiting Valentine was only going to take an hour or two.  At least that was how much time I allowed myself to stop before needing to continue on the road again.  Several hours later, I was not even close to visiting all of the places that sounded interesting in Valentine and the surrounding areas.  I can't wait to go back again and bring my family this time!  This post is a summary of some of my Valentine experiences.
Valentine, the Town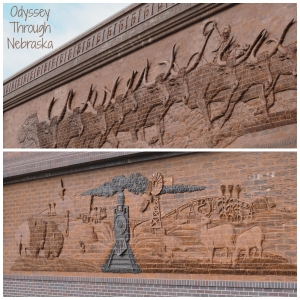 From the moment that visitors drive into town, they feel the Western welcome of Valentine.  This town started as a cattle town, and this influence can be seen around town.  My goal was primarily to enjoy the outdoor exploring.  So I missed getting to really check out very many places in town.  Next time, I would like to visit the Cherry County Historical Society Museum.  But I did enjoy visiting Centennial Hall.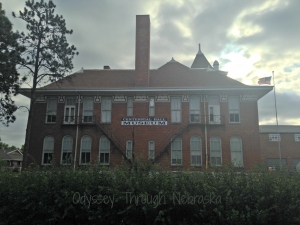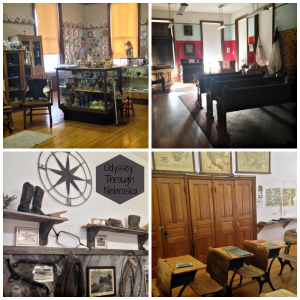 This museum is located in the original Valentine high school.  In fact, this particular building is quite possibly the oldest high school building still standing in Nebraska.  That makes it a rather fitting location for a history museum.  Each room has been set up with a different theme.  They have done a wonderful job capturing local history.  What I appreciated the most was the local guides who were more than willing to tell me all about the important parts of their town history.  I would imagine my kids would enjoy exploring all of the various rooms.  This would be a perfect place to set up a scavenger hunt where kids could find particular artifacts.
Valentine and the Niobrara River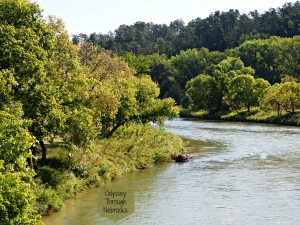 Nearby Valentine, there are so many breathtakingly beautiful areas to explore.  Around every bend there seemed to be a new sight to enjoy.  Honestly, I think you could spend about a week and still not see all of the areas that are accessible on the land and water.  Especially if you add more of Cherry County to the itinerary.
To capture the beauty of the Niobrara River, you may want to take to the water.  Besides having time constraints, since I was traveling by myself, this did not seem to be a feasible option.  But I must admit that I did feel a teensy bit jealous for those travelers who were getting ready to leisurely travel down the river.  Many outfitters are on site to help make the goal of river travel a reality. The National Park Service has a list of outfitters on its site as well as suggestions to make your river trip more enjoyable.
Valentine Area Waterfalls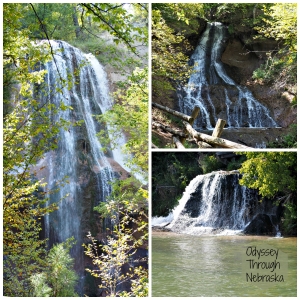 Exploring the waterfalls might have been my favorite part of this expedition.  Smith Falls is Nebraska's tallest waterfall and happens to be the larger waterfall in the picture.  Besides the long flight of stairs that must be climbed down, this waterfall is fairly accessible to visitors.  Rather than hiking on dusty trails, a wooden walkway guides the way to the falls.  This location happens to be one of the Nebraska Passport stops this year as well.
Nearby are the Fort Falls.  This set of falls can only be reached by a steep downhill path.  But if hikers go past the falls, they will reach the Niobrara River.  The small set of falls actually has a name.  Berry Falls might only be accessible by boat.  At least I did not try to hike down to this small waterfall.  At the time, Snake River Falls were closed to the public, but my understanding is that they are now accessible again.  This is supposedly another noteworthy Nebraska waterfall that hopefully will still be open to the public again the next time that I visit the Valentine area.  For the August edition of the L Magazine, I am excited be writing an entire article on the "Waterfalls of Cherry County."  I will put the link up when it is online.
Valentine Area Wildlife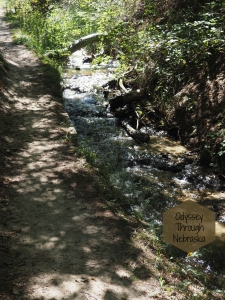 In such a rugged environment, one does not have to look far to see wildlife.  Areas to hike are plentiful and could result in seeing animals in their natural habitats.  If you are truly set on seeing animals, you may want to visit the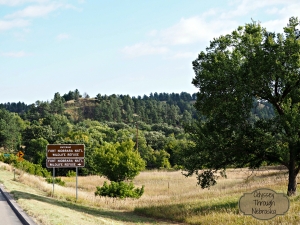 Fort Niobrara National Wildlife Refuge.  Here animals are free to wander in their natural environments.  While they are fenced in, they have many acres to explore within their boundaries.  The prairie dogs are rather cute.  Although you can often see bison, none were very close to the road the day that I was driving through the refuge.  In this area, visitors do need to stay in their cars.  The animals are considered to be wildlife and thus unpredictable.
At some point, I hope to write about each of these experiences individually.  Where would you like to experience the most in Valentine or beyond?  I know that I cannot wait to go back up there with my family.  I really would like to see Snake River Falls!
Want to plan your own trip to Valentine?  You can contact the Valentine Chamber of Commerce/ Cherry County Tourism at 1-800-658-4024.  They would love to assist you.