Although Lincoln's 2017 restaurant week has come to an end, there is no reason that you cannot go out and enjoy some of the featured restaurants.  I enjoyed my lunch at Single Barrel, and I was thankful that the restaurant week allowed me to try an interesting combination of the best of their flavors.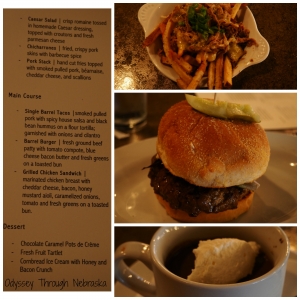 Because I always want to pick the specialties of the house the first time that I visit a restaurant, I asked my helpful Single Barrel server what to order.  I started with the pork stack which is hand-cut French fries topped with pork and cheese.  And I was glad that I had saved some of my fries because they definitely paired well with the Barrel burger – the perfectly grilled burger topped with bacon compote and blue cheese butter was delicious!  I had hoped that my husband could join me for lunch, but he was needing to work.  Somehow I managed to save half my food for him to try it – he enjoyed the burgers and fries as well.
As for the dessert, well how can you go wrong with Chocolate Caramel Pots de Crème?  Think really rich chocolate topped with real whipped cream.  I decided that bringing home the dessert would be much too challenging, so I enjoyed every bite. 🙂  This was a delicious way to end the meal.  Definitely a satisfying meal for $12.95 plus tip!
If you fit this criteria, you will definitely enjoy Single  Barrel …
You enjoy a good burger.
A good steak.  Barbecue.  Seafood.  Or … Now I can only speak definitely about the burger – that was a delicious part of the meal I sampled the other day.  But I am imagining that the rest of the food is the same.  Since I was determined to order from the Lincoln Restaurant Week specials, I actually forgot to look at the menu, so thankfully they have one online.  Everything sounds so delicious.  They also seem to have a good selection of drinks, but that was not what I was looking for the other day either.
You enjoy a fun atmosphere.
When you are greeted with a tall Jack Daniels of the statue kind, you know this will be a fun place.  I liked the subtle touches found throughout the place.
You enjoy country music and live concerts.
In the picture, you can see the hide that is the backdrop for the stage.  Every so often, they have concerts at this location for an additional fee.  When the music is not live, their music seems to fit the décor.  I personally like country, so this was a nice backdrop for my meal.  If you do not – simply visit when the place is crowded and the music in the backgrounds.  Nights or week-ends are definitely busier.  And if that still does not work, simply order your food to go. 🙂
You enjoy lingering after the meal.
During my June dining experience, the fireplace was obviously not going.  But I would imagine that the restaurant feels quite cozy during wintertime.  Right in front are leather coaches and a game box.  This seems like a fun place to gather with friends.  As for being family friendly, I would say that is maybe not their focus.  I could definitely bring my kids and feel comfortable with having them there.  Yet the Single Barrel definitely seems like a grown-up place to hang out.  For this busy mama, sometimes that suits me fine!