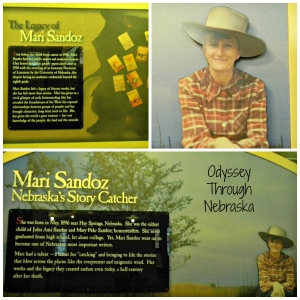 At Chadron College in Northwest Nebraska, you will find a fine tribute to one of Nebraska's most prolific authors.  Mari Sandoz grew up in this part of the country, and her books often featured Nebraska Native Americans and other western stories.  The Mari Sandoz High Plains Heritage Center has been telling the story of Mari's life and so much more.  This museum is partially operated with the support of the Mari Sandoz Heritage Society.
Mari Sandoz's Life
Mari Sandoz was born Mary Sandoz and raised in Northwest Nebraska. Her life was not an easy one.  Being the daughter of a demanding man meant that she was expected to work all of the time on their family ranch.  More details about her life can be found on the Center's biography page, and that is where I am getting the information for the brief background that I am telling here. The displays touched on some of her hardships.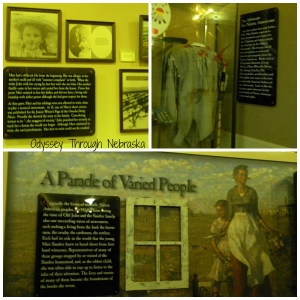 When she was 18, Mari married a rancher.  This did not make life better for her.   In fact, within five years, she was divorced.  She moved to Lincoln with the hopes of becoming a writer.  Thousands of rejection slips followed, but she persisted.  "The Peachstone Basket" did receive an honorable mention in the 1926 Harper Intercollegiate Short Story Contest.  Initially she wrote her stories under her married name: Marie Macumber.  Besides continuing to write stories, during this season of her life she also worked as a reader, editor and writer for various places.
In 1928, she was called to her father's death bed where he asked her to tell his life story.  Researching his background would consume her time for many years.  At this point, she became Mari Sandoz.  Old Jules was completed in 1993.  The book was rejected at least one time by every major book publisher.  Feeling defeated, Mari moved back home with her mother.  She even burned some of her manuscripts.  This might have been a low point for a woman who had had a hard life.
She returned to Lincoln to again try to market Old Jules as well as work on other titles.  Finally in 1935, the book won an Atlantic Press non-fiction contest.  Now she had a new fight – to convince the publisher to retain her wording and style of writing.  She won.  The book was a success despite (or maybe because) being a bit shocking in language and personal details.  Sandoz would go on to write 21 titles of both fiction and non-fiction.  The Center site has a complete list of her titles as well as book club materials.  Most of her books have a Western theme that was highly influenced by her growing up years.  The trappers, traders and Native Americans that were a part of her childhood would help her to tell stories later on.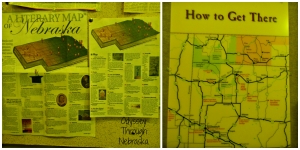 For visitors who want to see more of where Mari Sandoz lived and worked in the area, a posted map lets you take an actual Sandoz tour.  Many of the sites written about in Old Jules are also included. I think this would bring her books to life.  I must admit that I have not read any Sandoz works yet.  That is my hope for this coming year when we are studying Nebraska.  Will have to see if any of the titles are PG enough for my older boys to be able to read.
Besides telling more about the life of Mari Sandoz, other authors are also often celebrated here.  Often other exhibits are up that feature the lives of and works of other authors from the American plains as well as around the world.
The American West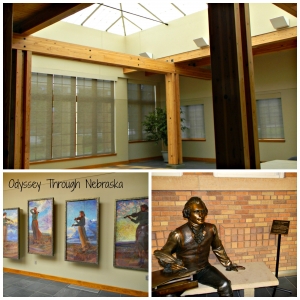 The rest of the High Plains Heritage Center celebrates American Western Life.  These are the permanent exhibits.
The C.F. Coffee Gallery celebrates cattle ranching on the High Plains.  Archives are being established that will help further study of this practice.
At the E.H. Barbour Paleontology exhibit, visitors can learn more about Jules Sandoz's fascination with area fossils.  Visitors interested in this aspect of the area will also want to visit another museum located on campus.  The Eleanor Barbour Cook Museum of Geology expands on this theme.
The Flora Sandoz Wildflower Exhibit tells visitors about Mari's sister.  She was fascinated with horticulture and especially area wildflowers.  This interactive exhibits displays her photographs as well as other documented research.
Behind the building, the Heritage Gardens are preserving area plants.  Besides being beautiful, these plantings provide research opportunities for Chadron State College Students.
Temporary exhibits can also be seen at this museum.  Currently they have a First National Bank of Chadron exhibit on money.
Mari Sandoz High Plains Heritage Center and the Time Capsule
An unique official NE150 event is taking place at this location.  That website explains how Sandoz was a part of a unique group of people.
Mari Sandoz joined a diverse group of people who placed predictions in a time capsule in 1956. She and Walt Disney, J. Edgar Hoover, J.C. Penney, General Carlos P. Romula (Philippine Ambassador to the United States), Miss Carol L. Morris (Miss Universe 1956), Mayor John Rosenblatt, Harry B. Coffee (President, Union Stock Yards Co. of Omaha), Governor Victor E. Anderson, and over forty additional noteworthy individuals submitted 50-year "prophecies of achievement" that were deposited in the cornerstone of KETV and opened in 2006.
The High Plains Center is asking visitors to make their own similar predictions about the future.  They are placing these surveys into a time capsule that will be opened in 2067.  Although I am not sure that I will be around then, I am certain that it will be interesting to see if any predictions came true.
Note: this the Mari Sandoz High Plains Heritage Center is one of the 2017 Nebraska passport locations.  If you are able to make it to this wonderful museum celebrating literature, you will definitely want to get a stamp in your passport.