Name a Nebraska author.  Who came to mind?  Probably Willa Cather.  Or Ted Kooser.   Or Mari Sandoz.  Or Bess Streeter Aldrich.  Or John G. Neihardt.  Stephanie Grace Whitson comes to my mind since she is my favorite current Nebraska author.  (Her latest book, Daughter of the Regiment, is on my must-read-soon list!)  All notably great Nebraska authors.
But there are a few others who might not havencome to mind.  How about Bertram Austin Lewis?  Or Dorothy Thomas?  Or LaSelle Gilman?  Unknowns?  Well, Net Radio is hoping to change that with their "Lost Writers of the Plains" series.  Complete with short radio and print essays, you have the opportunity to learn about authors that they feel should no longer be lost to obscurity.  Now to be clear – while I write for families, these essays and excerpts are definitely for the grown-ups.  The themes are not exactly intended for children.  But if you also enjoy discovering untold stories, you will definitely want to click on this link.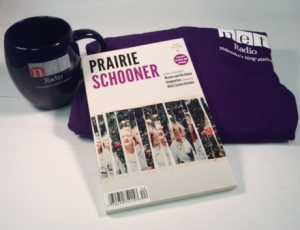 While this has only been true for the last several years (evidently I am a late bloomer),  studying history while sipping on coffee might be my favorite way to learn.  Especially if the house is quiet.  While I cannot guarantee that for you, thanks to the kind folks at NET, I can send one reader a brand new coffee mug.  Along with a great t-shirt and a copy of the Prairie Schooner.  What does that magazine have to offer?  Why explanations and essay excerpts about these eight "Lost Writers of the Plains!"  Not wanting to wait for that edition?  Most of the excerpts can also be found online.
To win this great prize pack, please leave a comment below about who is your favorite Nebraska author and why.  I will put all of the comments in a hat and have one of my kids draw out the lucky winner.
P.S. For a chance to win another prize pack, check out my other blog post on the Good Life Moms site.