Hey, calling all other Nebraska enthusiasts …
For the past five years, I have been posting about Nebraska places and people, both past and present.  At least once a week, I have written a post about a particular location or person in this fine state of Nebraska.  And I do not see that stopping anytime soon.
But I want to switch things up a bit.
After contemplating sending out a newsletter for months now, I am finally ready to take the plunge.  I plan on sending out my first e-mail to all of who have signed up to hear from me.
(Evidently for the past several months, some of you had signed up for a newsletter, then you had not heard from me at all.  Whoops!  That's what I get for not signing up to get notices of followers.  To you who have been so patient – I am grateful!  A special thank you will be coming to your inbox soon!)
Back to the newsletter … I plan to continue on in the same theme – telling tales and sharing stories about Nebraska.  Blogging works well but fitting everything in that I want to write is challenging. I really enjoyed writing the first edition, and I hope that you will enjoy reading some more about Nebraska including some personal reflections.  I plan to send out 14 editions per year.  One per month, plus two bonus editions.  These will come out around Nebraska's birthday (do you know when that is?) and also around July 1st – the anniversary of this blog!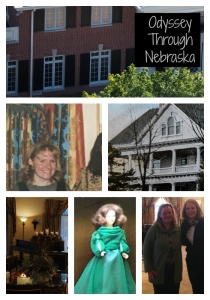 This is a close-up collage of the first stories that I will be sharing for this blogiversary edition.  Can you guess what this month's theme is?
Signing up results in a Newsletter AND access to Nebraska guides
If you do sign up to receive my newsletter, you will also receive a password for access to a special resources section on Odyssey Through Nebraska.  For the last several years, I have been developing resources – Nebraska travel and educational guides.  I may develop some e-books and lit guides that may cost a nominal fee. But for the most part all of these resources will be free for followers.  Ultimately my goal is to develop a community of Nebraska enthusiasts.  I would love to have you join us.  And if you have a story that you would like me to tell either on the blog or in the newsletter, I would love to hear it!
All you have to do to sign up for the newsletter and the resources section is enter your email and first name below.