Yesterday I had the privilege of presenting another workshop on Nebraska at our NCHEA homeschool conference.  A big part of my presentations is being able to show pictures of my travels.  After all, you cannot really learn about Nebraska without getting to see it.  Somehow in transferring pictures to my laptop, the last part of my presentation did not make it to my slide show.  Perhaps this is a good thing since I already was struggling to finish on time.  Because I do think that the pictures add to the experience, I promised the people who attended that I would post the pictures on my blog tonight.  Now all of you get to benefit and see some of my favorite Panhandle places in Nebraska.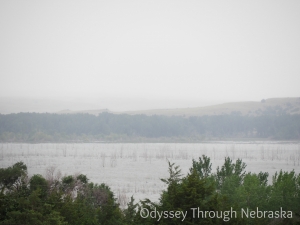 Technically Lake McConaughy is not officially in the Nebraska Panhandle, but as you follow along the highway, you do end up in the Western part of the state.  While I have featured the lake before, I talked more about our picnic experience.  Lake McConaughy is definitely a beautiful place to see.  Some time I will do a whole post on the many moods of the lake.  When I was there in September, the morning was rather foggy.  But still beautiful.
Right after you leave Ogallala on the edge of the lake near the dam is the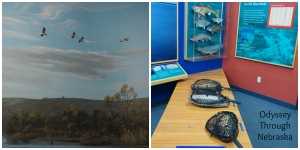 Water Interpretative Center.  When we drove by the lake several years ago, we were needing to back home because my husband had to work the next day.   So we didn't get to stop.  When I was by myself, I was able to take the time to enjoy.  At some point, this wonderful educational site will get its own post.  One fun discovery was that the murals were created by Nebraskan David  Reiser out of Waverly.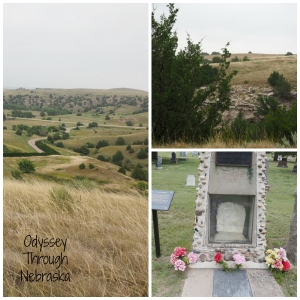 Heading out of this part of the state, you end up at Ash Hollow.  The visitor's center is staffed by knowledgeable local volunteers.  I really enjoyed hiking and taking the time to explore this beautiful area.  In between the state park and the nearby town of Lewellen is a local cemetery that also has pioneer graves.
Once I made it to Lewellen, I was quite excited to finally get to go to The Most Unlikely Place.  Delicious food and such a fun atmosphere.  I can't wait to return again someday!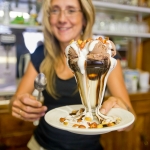 Fairly nearby is the town of Sidney with its varied history and the small town of Potter.  Unfortunately I did not get to visit to try the town's well known dessert: tin roof sundaes. Or to get to try "duck pin bowling."  Unfamiliar with this entertainment variation?  You will have to watch this Nebraska Stories segment.
Up the road, you can stop at Nebraska's Twin Cities: Scottsbluff and Gering.  The boundaries blur together between the two towns.  One recently updated museum is the Legacy of the Plains.  When I was there, they were weeks away from their completed renovations.  I know that I need to return someday with the rest of my family to see the results.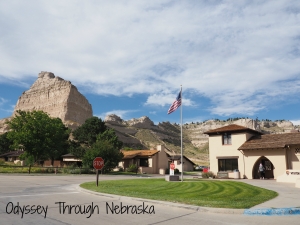 Less than a mile away is the official Scottsbluff National Monument.  Besides providing a great place to enjoy hiking, visitors can also learn more about local history at the visitor's center.  This is one of the Panhandle places that reflects the unique bluffs found in the western edge of our state.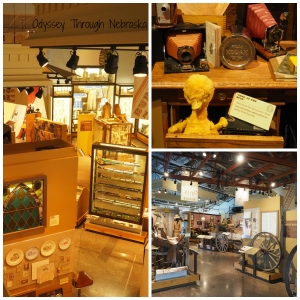 Heading toward the northern part of the state, you will want to stop in Alliance.  One of the places that I really enjoyed on my trip is the Knight Museum and Sandhills Center.  Now that is an impressive museum.  Although primarily the displays feature local history, one cannot help but be intrigued with the information that is presented.
And of course a trip to Western Nebraska is not complete without a stop at Carhenge …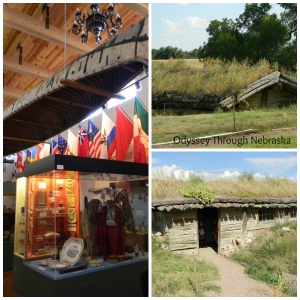 Chadron has many great museums, but one museum I have highlighted several times is the Fur Trade Museum.  With places to explore both inside and out, this fascinating place explores the history of the fur trade in Nebraska and far beyond.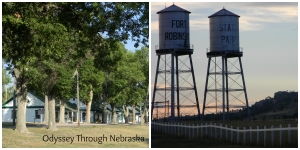 Chadron is the closest larger town to Fort Robinson.  With so much Nebraska history in one place, there is so many places at this fort to explore.  Our family spent several days there, and I would gladly go back.  Actually we have stayed both on Officer's Row and in the Officer's Headquarters once our family grew.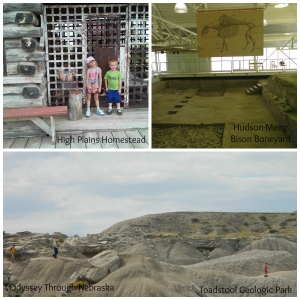 During warmer and nicer weather, three places provide unexpected opportunities in Nebraska.  High Plains Homestead, Hudson-Meng Bison Boneyard and Toadstool Geologic Park are all unique Nebraska Pandhandle place locations.  The first two have both been featured on this blog.  Recently I wrote an article in the L Magazine about this unusual Nebraska place to hike.
On the very edge of Nebraska is a place that I definitely hope to visit some time.  Agate Fossil Beds National Monument has two focus points: both geological and Native American artifacts.