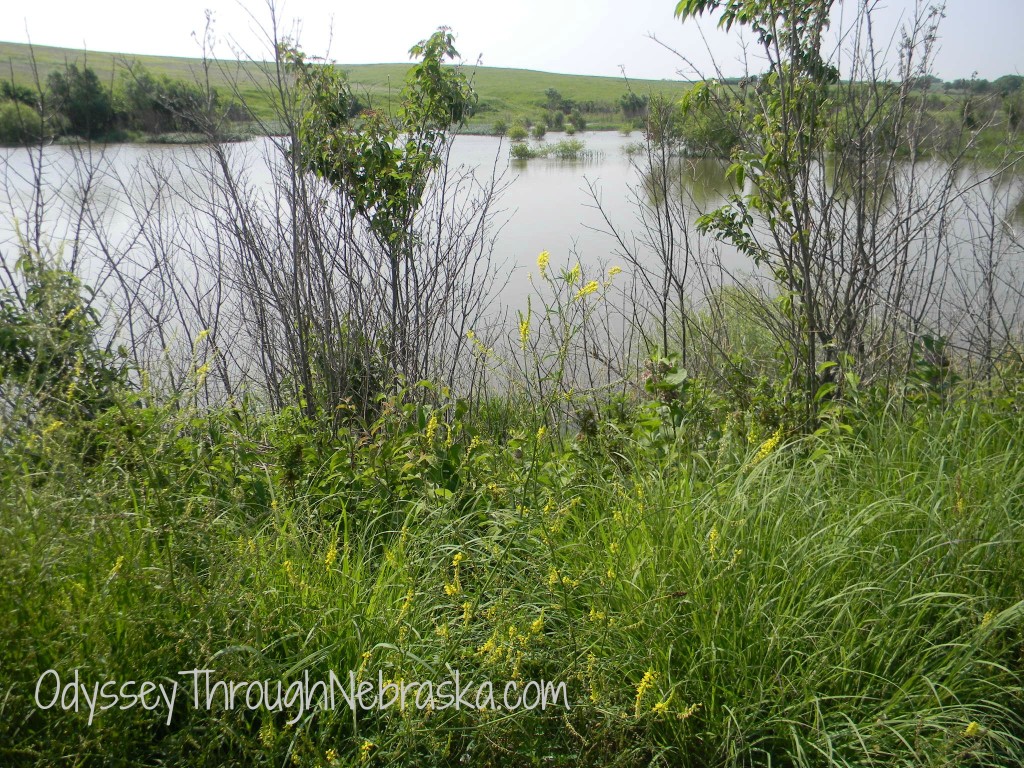 Place at a Glance
| | |
| --- | --- |
| Open hours | Center: 9-5 weekdays; 1-5 week-ends; trails until sunset; closed 6 holidays |
| | |
| --- | --- |
| What to Know | Bring sunscreen, bug spray; proper shoes, water and snacks |
| Cost | Adults: $4; Seniors: $3;Children (6-17): $3;  All are free on Tuesdays |
| Group Tours | $3 but some chaperones free; Program options; 2-6 hours |
| Museum Manners | You can hike throughout the grounds – keep in mind that you need to leave the trails how you found them (no collecting items or unnecessary trampling) |
| Recommended Ages | A lot of walking for little kids – while the Visitor's Center is nice, it would not occupy preschoolers for long; could possibly hike with an all-terrain stroller; perfect for hikers about age 8 and up |
So, maybe flip flops/sandals weren't the best idea.  Or venturing out on the about the hottest afternoon of the summer.  But we did carry water.  And we had a glimpse of what being a pioneer on a blistering hot, windy day might have been like.  For it was Tuesday – free admission day to Spring Creek Prairie Audubon Center, located near Denton, Nebraska.  And when you want to have your kids enjoy lots of experiences, free is a good thing!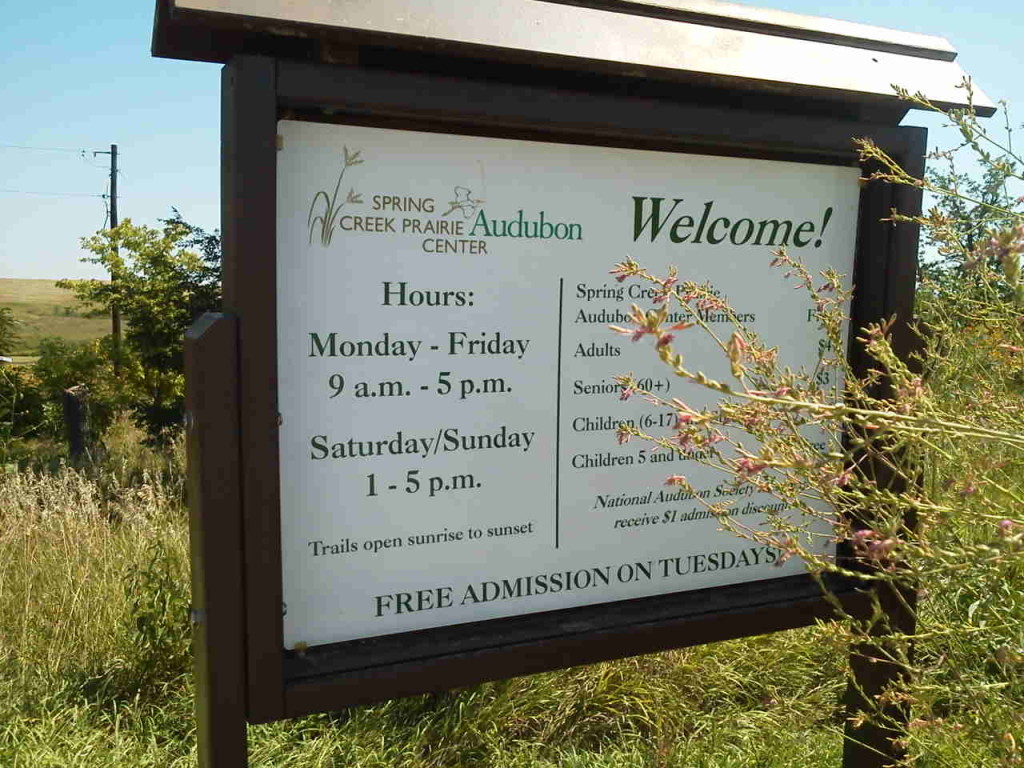 Our kids had spent the night at my parents, and we had a co-op meeting.  So I had planned on us going home before venturing out (hence the sandals).  But I knew stopping by home would result in staying home due to all that was undone there.  So, we headed out west of town (and caught up later).  I am glad that we went.  I think the kids are glad, but there was definitely a bit  lot more complaining than normal due to the heat.
So, you hike down a path from the parking lot and come to a discovery building full of exploration possibilities, especially for children.  I did not manage to take pictures of all of the various displayed items (such as light up prairie maps) and animals on display.  But I did capture a wagon wheel – aren't you glad? 🙂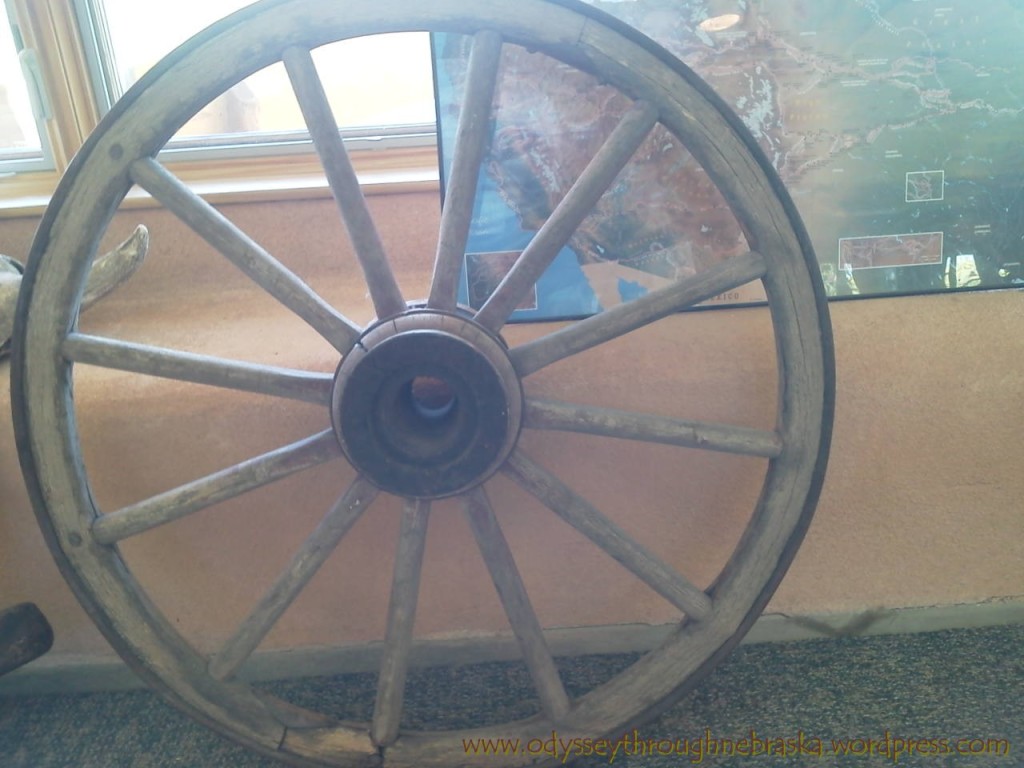 The building also has a lovely gift shop with items that will continue to help you explore nature and Nebraska.  Plus the space reflects nature.  This happens to be the picture about the water fountain.  Such a lovely mosaic.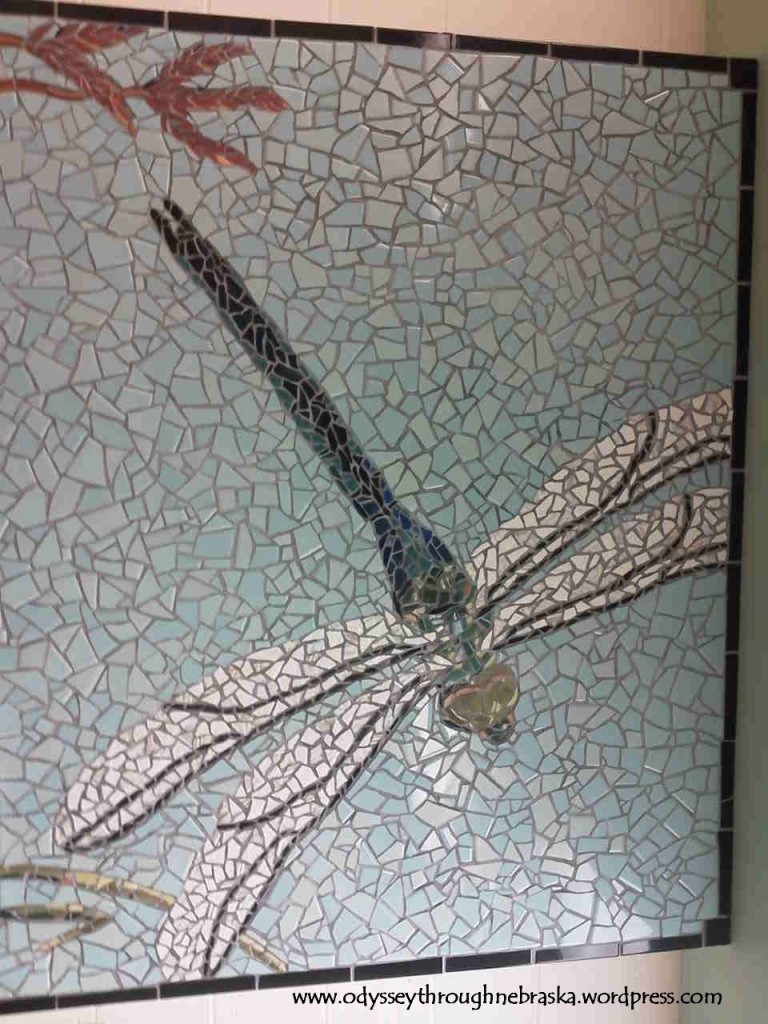 The Audubon Center definitely wants kid visitors.  They have several backpacks that family can checkout to help enrich the experience.  A few of the choices: one for scientists, artists, photographers with activities inside and suggestions on what to look for while out and about.  We picked the "artist" pack, and each of my children got to have journals to capture their hiking experience.  Love the idea, unfortunately this is where the heat came into play.  My oldest wore the pack, but we never really consulted it.  On a cooler day, my kids would have appreciated all of the suggestions.
Yes, despite the warm temperatures, I did make us go for a hike.  This is where I made a few additional mistakes.
First of all, not consulting the map.  We were really close to wagon ruts left there by the pioneers a century ago.  And they were clearly identified on the map.  By markers.  The map that I folded in my pocket and left there because I wanted to move us along.  My hikers were not happy, so I wanted us to keep moving.
Paths.  As with most nature places, I assumed that we had to stay on them.  Wrong.  The prairie is for exploration.  Including the wagon ruts and the creek and the middle of nowhere.
   Proper clothing.  This goes back to the rushed day part.  If we would have all been wearing tennis shoes, we maybe would have wanted to hike across the prairie.  We would have found the wagon ruts.  (Yes, I am bit too focused on dents made by conveyances from long ago!)
The hot temperature did affect our trip more than I expected.  As in, we probably should have waited.  We were basically the only visitors that afternoon, other than people who stopped by to buy a t-shirt.  Obviously most explorers knew that some days staying home is a better option.  I did ask my kids if anyone of them would have enjoyed being pioneers when we came back from our hike.  They all said a resoundingly strong NO!  Just adding a bit of reality to the dreams of exploration!
If you have never been out to the Spring Creek Prairie Audubon Center, I would highly recommend the place.  Especially if you are dressed appropriately and go on a day when the temperatures are reasonable. Rather than reflecting further, I am going to share some pictures that we took that do show a bit of the beauty of the prairie.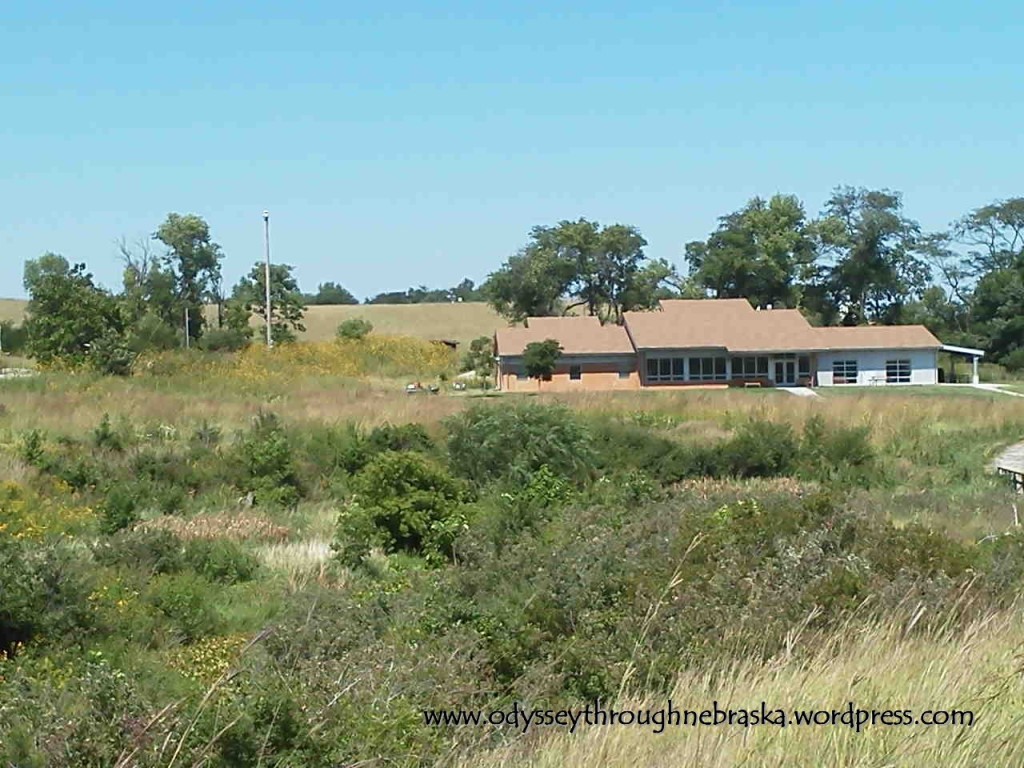 One of our farthest spots that we hiked.  I am not sure if I used zoom or if the path was winding because it felt like we were a lot farther away from the building.  Maybe the almost 100 degree weather was causing me to see things?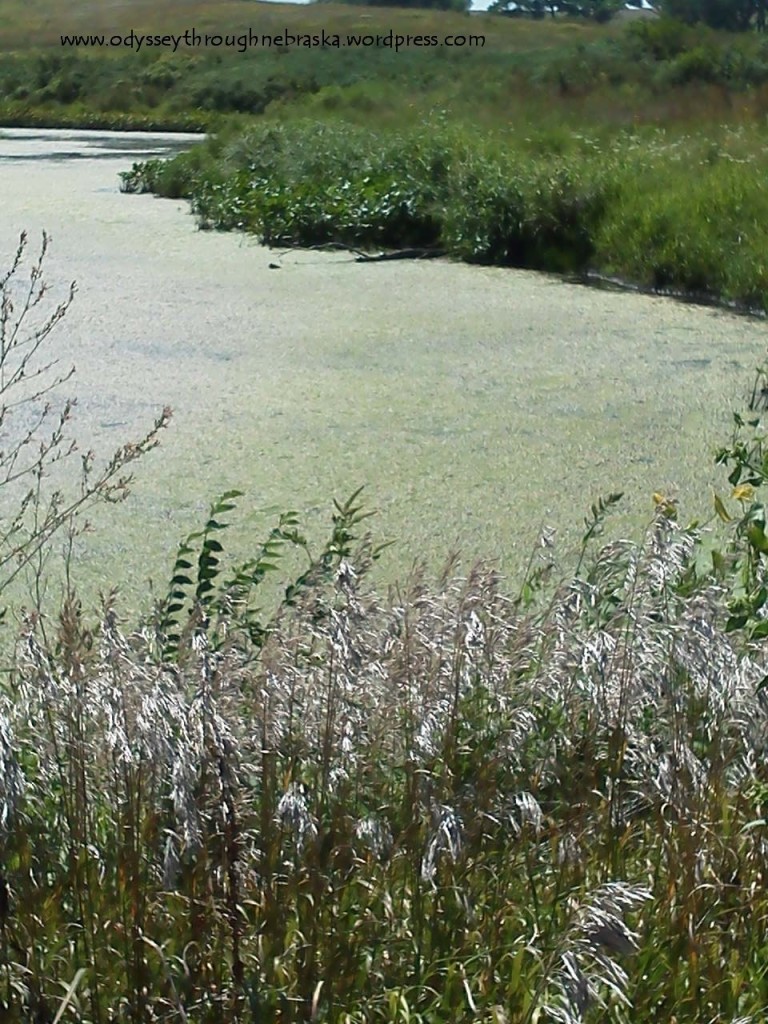 We did like seeing the little turtles playing on the log.  What?  You can't see them.  Guess you will have to use your imagination. 🙂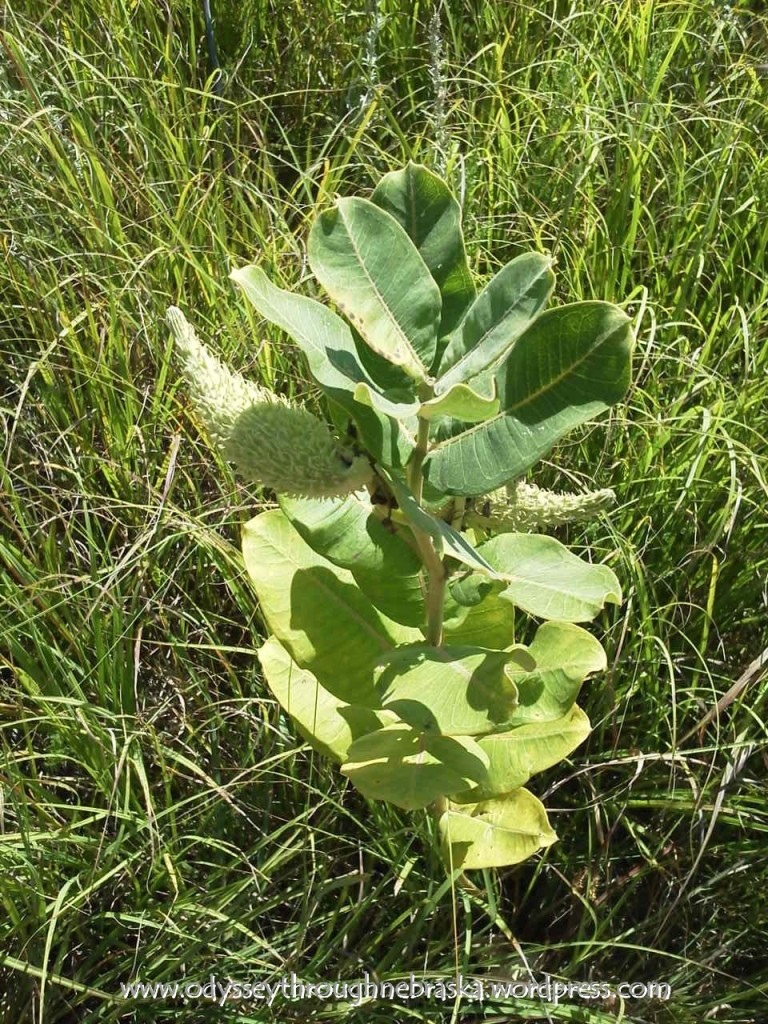 My one son wanted to split open the milk weed.  Somehow I convinced him not to.  Pretty sure destroying nature is not the goal of the place.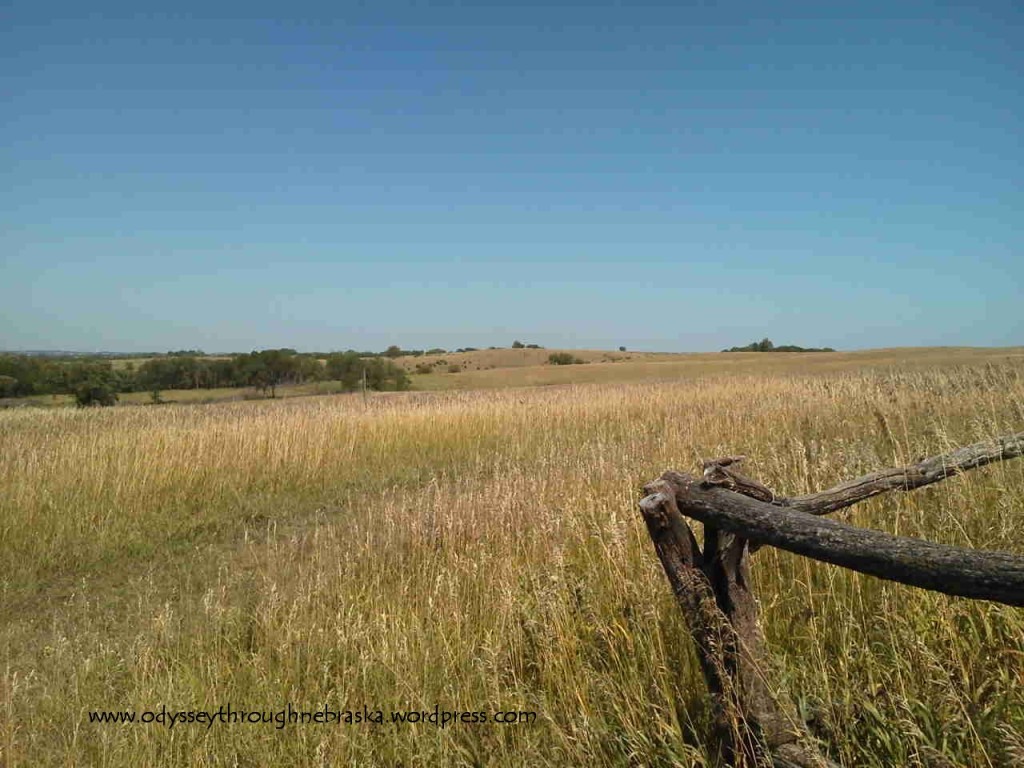 Loved being able to see untouched land.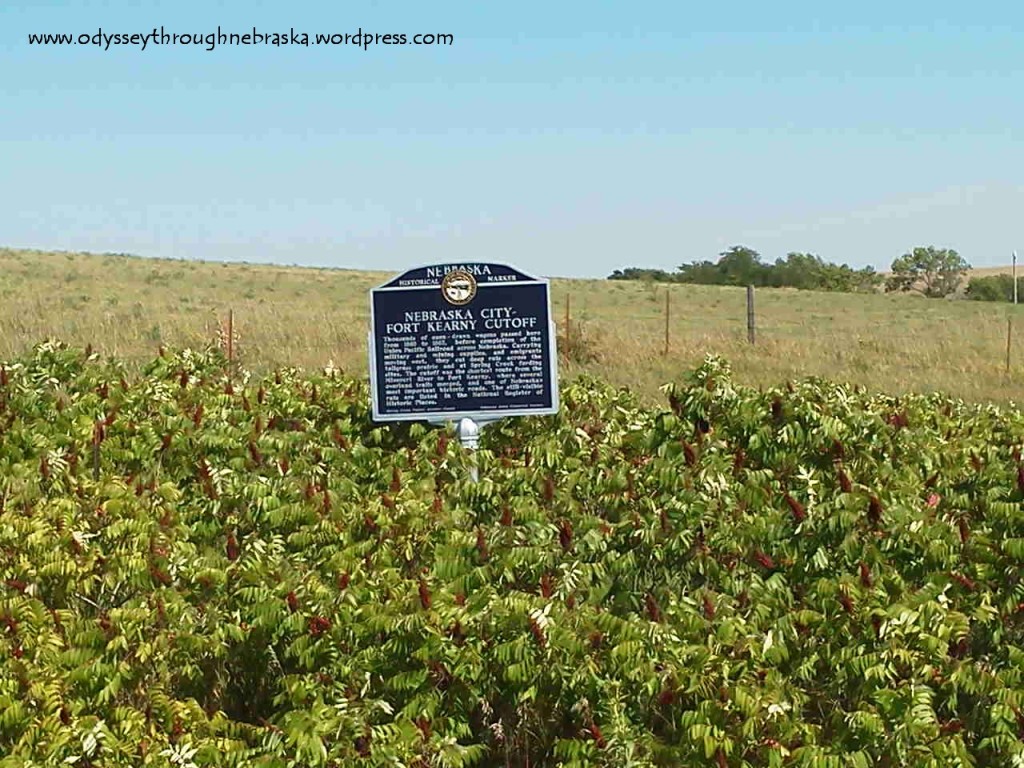 Since the Spring Creek was known as an Oregon Trail cut-off between Nebraska City and Kearney, a lovely historical marker denotes the location.  To actually read what the sign says, you can go to Nebraska Historical Markers: Nebraska City/Fort Kearney Cut-off.
I would highly recommend a getaway to Spring Creek Prairie Audubon Center!