Happy Cinco de Mayo!  Perhaps you are looking for a fun place to celebrate in Nebraska?  Well, I have a recommendation for you!
On our return trip last year from Iowa, we drove through Blair.  Much to my excitement, my husband and I were able to have dinner with two of my favorite people.   Laurie and Ole are so dear to my heart! While the rest of this post will be about the delicious food at El Vallarta restaurant, what made the experience even for memorable for me was definitely the company.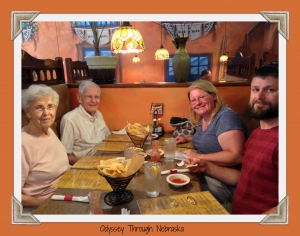 We let our friends pick the restaurant, and they picked a local favorite … El Vallarta.  I decided that in honor of Cinco de Mayo, today would be the perfect today to tell you about this Mexican dining experience.  Technically you can find two El Vallarta's in eastern Nebraska.  We ate at the Blair location, but there is also a restaurant in nearby LaVista.  What is funny is if you visit their website, you actually might think you are no longer in Nebraska.  Instead you will see pictures of beautiful Mexico.   While El Vallarta does serve authentic Mexican food, the only ocean side dining you will have is if you sit near where ocean scenes have been painted on the wall.
Cinco de Mayo specialities
Determining what to order was definitely challenging.  They have so, so many delicious sounding choices.  Thankfully their menu is posted online.  If you struggle with making decisions, you may want to at least glance through their vast selections in advance.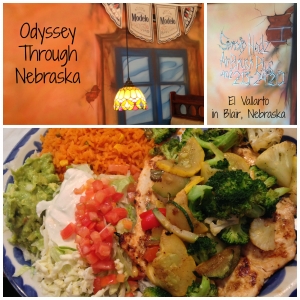 That week-end, my husband and I had been fed rather well, so we went with sharing a meal.  Especially with the free chips and salsa, we had plenty to eat.   The portions are definitely generous. Although narrowing down the options was challenging, we went with Pollo Yucatan.  Once you read the below menu description, you will understand why we think we made a good choice.
Grilled marinated chicken breast cooked with mild yellow, green and red bell peppers, onions, green and yellow zucchini, over a bed of rice, side of sour cream and guacamole salad with two flour tortillas.
Basically we ate Mexican summer on a plate.  Yum!  Right about now, I am trying to figure how I can return again soon.  Or maybe they would deliver to Lincoln?  If you are looking for a fun place to celebrate Cinco de Mayo in Nebraska, El Vallarta is a good choice!