Like most little girls, I begged my parents for a horse.  Having land amounting to almost five acres, we even had enough room for an animal to roam with an acre of milo for "free" feed.  My parents repeatedly refused my request – claiming that since I did not help take care of our smaller pets (the dog and cats), I would probably also neglect the horse eventually.  I have to admit now that they were probably right.
But when I was older, my horse dream came to fruition when I excitedly invested in … a pair of cowboy boots.  For a modest amount of money, my friend's mom gave me horse riding lessons and a few times a month, I was able to gallop across the prairie.  I know just enough now that I could possibly saddle up to get away from an outlaw.  Of course, my saddle would probably fall off less than a mile later – I never could manage to get my cinch tight enough.  After a few months of riding, I decided to hang up my hat.  As a wife and mom who lives in a city, my horse owner dreams have had to fade away.
Maybe my dream of attending an actual rodeo could come true someday though.  (As opposed to one that is indoors!)  But attending Nebraska's Biggest Rodeo (which starts tonight!) will not be happening for us this year due to many other commitments at home. Although I have sure enjoyed looking at their online event pictures and imagining myself there.  If you are unfamiliar with what all will be taking place this week at Burwell,  you can actually have quite the rodeo education simply by visiting their site.  (Rodeo Event Descriptions.)  And if you want to see last year's rodeo in action, you can check out this YouTube video featuring one of last year's events: Burwell Rodeo Wild Horse Race 2012.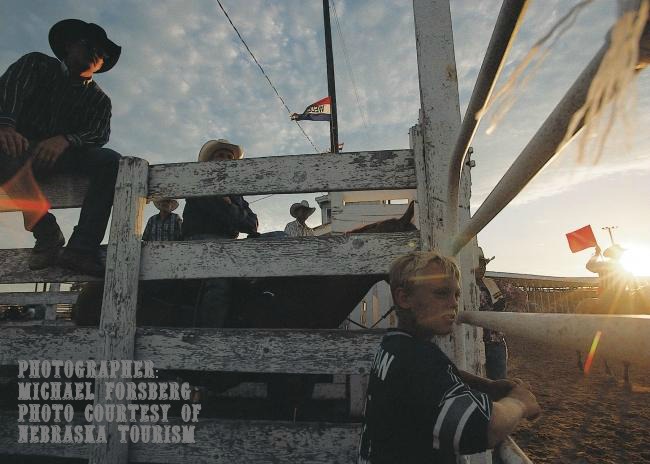 Tickets are still available for the Wednesday- Saturday evening events.   They range from $8.50 for kids under 12, $16.50 for adult general admission, $21.50 reserved, $26.50 box seat and only $101.50 for a skybox seat (might be cheaper to just buy a horse? 🙂 )  Other than a 3 year departure (during WWII by the direct request of the President!), this rodeo has been an annual Burwell tradition since 1921. (Burwell Rodeo History).  Here are the planned events for this year's rodeo.
| | | | |
| --- | --- | --- | --- |
| Team roping | Rodeo clown | Steer wrestling | Mutton Bustin' |
| Barrel racing | Jr. Steer roping | Saddle bronc riding | Steer wrestling |
| Mutton Muggin | Calf roping | Bareback riding | Chariot racing |
| Wild horse racing | Trick Riding | Chuck wagon races | Wild pony race |
| Bull Riding | Dinner bell derby | (Quilt Display) | Cowboy Church |
And if you have the time and the hankering to go this week-end, you may even be able to stay at an actual ranch (if they still have openings).  And you could also visit an actual outpost from the old west while in the Burwell area too!  (Fort Hartsuff)  So grab your boots and "git along little doggies!"
P.S. Another Nebraska blogger actually went to the Burwell Rodeo.  Her entry on patriotism at the rodeo is definitely worth reading, so I am updating this post to include a link to her blog!  Chores and Chandeliers: National Anthem (Rodeo Style)