Thank you to the Museum of American Speed for the complimentary tickets.
Lincoln is privileged to have wonderful exhibits of racing and automobile memorabilia.  Bill "Speedy" Smith's family has displayed his vast  collection for the public viewing at the Museum of American Speed .  By vast, I mean VAST,  135,000 square feet of space found on three different levels.  They may even to decide to add further display space in the future.  When you walk into the front doors, you immediately enter the world of racing.  Smith was once a racer himself which must have piqued his interest in the sport.  At one time, racing was a big sport in the Lincoln area, and Smith himself was a part of that community.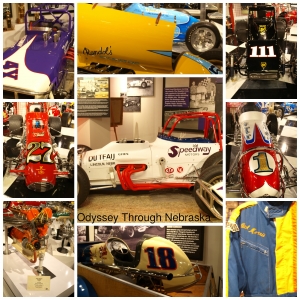 Besides having racing cars and equipment, the Museum of American Speed also has an unique collection of classic cars.  Normally I can narrow down favorite displays, but not at this museum.  The collection is filled with so many unique cars from so many decades.  The only thing that would make these exhibits more fun would be if you could climb in some of these cars and ride away.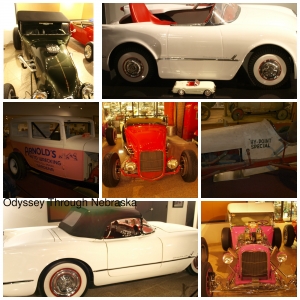 Although this museum may appear to be designed for grown-ups, Smith also has many pedal cars and riding toys.  Keeping the kids from climbing on all of these could be a challenge because they are just so fun.  The museum has done a wonderful job of expertly displaying all of the items in such a visually pleasing way.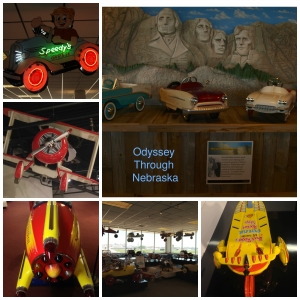 If cars are not your thing, the museum also houses other unique collections.  The lunch boxes were a treat for me to see since I recognized many from my childhood.  Board games, arcade games, toy cars.  These are just a few of the collections on display.

To truly see everything at the Museum of American Speed, you need to spend several hours on location.  I think kids all of ages will enjoy the exhibits.  Yet because there are not many barricades, a stroller might be recommended for younger children.  If you do want to learn from the displays, perhaps wait to bring kids until they are a bit older. Admission is charged, but the cost is reasonable for the amount of items on display.  Due to space, they actually only have part of the collections on display.  This means that if you visit every several months, you will have a new experience.  Since they change displayed items frequently, I am looking forward to returning again and again.
To keep up with the "Museum of American Speed"
Start by following them on Facebook.  You can find out about special exhibits and regular hours.  For instance, starting in October, the museum will only be open on Mondays and Fridays.  You will definitely want to visit on a day when  you have enough time to enjoy the whole experience.