Becoming more fit seems to be a common New Year's Resolution.  Exercising can seem overwhelming.  At times, finding time to be active can be a struggle.  If you live in Nebraska, your time for excuses might be over.  The NE150 Challenge hopes to make the fitness process a bit easier.
Participating is easy.  Nebraskans can create an online user profile.  Parents can include their kids as a part of the challenge.  Then begin to log your miles.  The goal is for each participant to log 150 total miles of physical activity throughout 2017.  For me personally, I have also challenged myself to run at least a mile everyday.  Rather than logging all of my activity, I am choosing to log my miles spent running.  If jogging is not your thing, there are still plenty of acceptable exercises.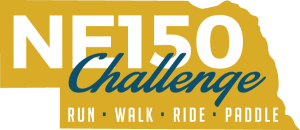 Suggested aerobic activities …
Cycling
Geocaching
Hiking
Paddling
Rolling
Riding
Skating
Swimming
Walking
Exercises such as baseball or volleyball could also be acceptable, but participants will have to be a bit more creative on logging miles.
Are you unmotivated to do this challenge alone?  Join or start a group.  Then you can encourage each other to keep making strides toward becoming fit.  Hey, why not join my group?  I know that I am definitely needing encouragement and accountability to meet my own exercise goals.   Maybe we can help each other become more fit!
Want to know more about fitness events taking place across the state?  So far, nineteen exercise events are a part of the official event list.  If you  happen to be planning your own large scale fitness event, contact the NE150 challenge group.  Your activity could be added to the list.  List of Nebraska trails and waterways are also on this site.
The website is intended to be more than just a place to check in.  Online resources are plentiful.  Learn about the benefits of physical activity.  Let's get fit, Nebraska!