For the past two years, my kids have participated in the summer reading program at Indigo Bridge Books in Lincoln.  One of the prizes both summers was a free hour of painting pottery at Paint Yourself Silly in Lincoln.  This has resulted in the creation of unique Christmas gifts for the past two years in a row.
Now these are obviously not all of our creations – just all of the possibilities.  For the past two years, my kids have painted coasters.  Individual works of art.  They have now each painted one set for Daddy last year, then for both sets of grandparents this year.  I hope to post pictures of their completed projects on Facebook soon.  They are giving away their final set today!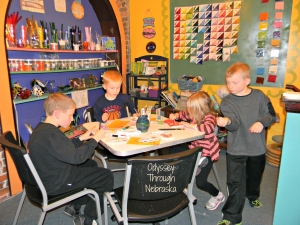 They love getting paint on a "blank canvas," and I love the fact that coasters can be a useable keepsake.  As opposed to pieces of paper that constantly fall off of the refrigerator…  I enjoyed watching them to determine their designs.  The best part – I am not tempted to help, since then I would have to pay for an hour of painting.  The project is truly theirs.  Then the mess is truly "Paint Yourself Silly's" – no clean up required.  That is another great part!

The paint yourself selection process of paints is even fun, and they have added glass fusing and mosaics to their project possibilities.  If you bring a friend on Fridays from 6-9, you can paint for half price.  And if you wear comfy jammies on the first Friday of the month, you can paint half price from 9-midnight.  Plus they have a flat fee if you want to "paint until you faint" all day.  Several discount options are available.
Enjoying Paint Yourself Silly All Year Long
The normal fee per hour of painting is $6 an hour if you are above 10, and only $4 an hour for kids under 9.  The pottery is purchased separately and varies in cost based on size and intricacy.  They also have birthday party and other event options (including preschool story time).  Plus they have a location in both the Haymarket and in Southeast Lincoln.  Hours vary at each location.  We all love to go to Paint Yourself Silly and highly recommend the experience!