Sadly one of the places that we went on our Staycation Lincoln is now closed.  Chey's, which was one of my favorites, closed after only a few years in business. 🙁  But you can still enjoy the other two experiences.
Today happens to be our 16th wedding anniversary.  Due to various reasons, we officially celebrated a few week-ends ago.  I really had hoped to go down to Kansas City, but due to the common constraints (time and money :-), we opted to stay in town.  We always seem to have enough to do around the house that I knew hanging out at home would keep us both busy and apart from each other, so I tried to think of fun things that I had been wanting to do around Lincoln.  As you may have guessed, I am the family planner.  I married a sweet, flexible guy who is up for almost anything.  I came up with the suggestions, and he went along with the plans.  Here was how we spent our Staycation Lincoln day.
One thing that I had been wanting to do was to watch the Huskers play at the Pinnacle Bank Arena.  Our family had attended games at various times when they had played at Devaney, but we had yet to experience the Pinnacle.  I LOVE watching college basketball.  (Truth be told, we tend to plan our school schedule around March Madness!) Over the years, my husband has gradually become a hoops fan as well.  Since there were not any concerts in town (that tends to be our thing), watching basketball would be a lovely way to spend a cold January afternoon.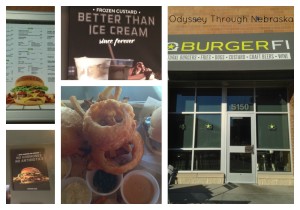 Staycation Lincoln Stop 1
But first, you have to eat, right?  Because we were going to have to pay for parking anyway down in the Haymarket, we figured why not try one of the new restaurants in Lincoln's Railyard district.  Because my husband loves a good burger, we decided that a stop at BurgerFi was in order.  This restaurant is unique in its quality of meat – all natural, hormone & antibiotic free.  Their condiment choices are unmatched if you want to build your own, although they have several featured burgers to choose from, including a veggie one and a breakfast one that I really wanted to try.  Maple syrup on a burger?  Why not?  My husband was feeling a bit more basic, so we shared a regular cheese burger.  This is where I was not thinking – the single was just a basic 1/4 pounder – definitely not enough for both of us!
Now the cry+fry basket was a bit more plentiful.  The idea that our French fries started out the day as potatoes is quite intriguing.  Very fresh indeed!  They were delicious, especially Urban Style (dipped in their Parmesan, herb + garlic aioli).  The beer battered onion rings are also worth sampling.  Because we needed to get to the game we did not sample any of their famous custard.  Guess we have an excuse to go back again!
Staycation Lincoln Stop 2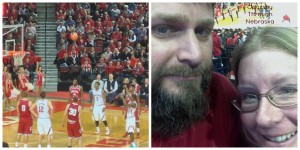 Getting to watch the Husker Men's Basketball team live and action was definitely fun.  I really like Coach Miles.  Personally I would enjoy watching every game.  For some reason, my schedule does not seem to allow that.  Anyway, I was familiar with some of the players, enough to know who to cheer for.  Splurging on the closer up $30 seats was worth it  – we loved being closer to the action.  Hopefully we will get to make it to another game soon.  The Pinnacle Bank Arena is an amazing atmosphere for basketball!  Even if the Husker lose.  Which they did.  The Indiana game was quite close and came down to the last minute.  (One quick note about parking – expect to pay $8 at the garages.  If you have cash, you can pay $5-7 depending on the distance of the alley or private lot from the arena.  Considering we were downtown for almost 5 hours, that is not too bad of a price!)
Staycation Lincoln Stop 3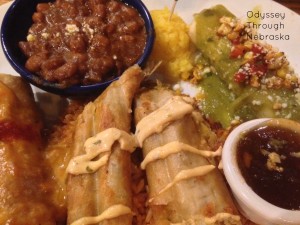 Over the past several months, many new restaurants have opened in Lincoln.  I have been making a mental list of "date perfect" places for when just the two of us decide to venture out.  Chevy's Fresh Mex was highly recommended by a friend.  After we ate there, we could see why.  We will definitely be repeat customers.  (Actually I must confess that I went there again earlier this week with a bunch of my dearest friends. Still a satisfied customer!)
First of all, their salsa might be some of the best that I have ever had.  Smoky and full of veggies – so, so good.  Because I could not decide what to order, I went with a choose-your-own-combo.  The chimichanga and pork enchilada with green sauce were great.  Along with the beans and sweet corn tamlito, I could happily stopped there.  Then I tried the chicken flautas.  With pineapple sauce.  I am not sure if I can ever order anything else.  One of the best Mexican dishes I have ever, ever had.  (Yes, that is what I ordered on my return trip!)  Since I had enjoyed plenty of chips and salsa, I had a lot of food leftover to enjoy the next day.
The best part of the day was hanging out with my husband.  Without our kids.  (Thanks, Grammi & Poppa!)  Because we had made them help clean the house before they left, our place almost felt like a B&B with our own fireplace.  Our staycation was a success!
I love you, my KJ!  Thanks for the best 16+ years of my life!