With the start of school, perhaps you have a little one who is learning to read.  We have a first grader in our house who is learning to read.  Learning to put letters into combinations that make words is a process.  A great way to do that is through using lots of alphabet books.  Since this is "Odyssey Through Nebraska," you might have guessed that I would want to introduce you to my favorite Nebraska alphabet book.
Four years ago, when I had another first grader, we learned about the United States this way.  Through incredible efforts made by the wonderful interlibrary loan librarian, Jean, we read the "Sleeping Bear Press" alphabet book on every SINGLE state!  (That was when ILL was free.  We utilized their services often for our education). The series is amazing, partly due to the incredible illustrations and partly due to the conceptualization of each state.  A four stanza line for each alphabet letter helps the book read like a story.  But if you have extra time, you can read the lengthier captions on the side for more detailed information on the topic.  (Thankfully now our library has many of the titles.  Unfortunately we no longer can get free Interlibrary loans, even for educational purposes!)
C is for Cornhusker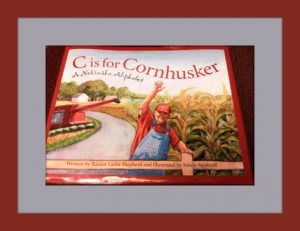 Of course my favorite book is C is for Cornhusker.   This Nebraska alphabet book is one that I personally think everyone interested in Nebraska should own.  Rajean Luebs Shepherd did a wonderful work that captures the essence of our state.  Here is just one of the letters to give you a glimpse into the format …
E is the early Explorers
who up the Missouri embarked
on an exciting expedition
led by Lewis and Clark.
Then by reading the caption,  you can learn more about how Lewis and Clark were a part of the history of Nebraska.
This book is perfect for those who are lacking Nebraska history knowledge.  Possibly you did not grow up here or missed what was presented in school  This book is a lovely volume to get you caught up on what represents Nebraska.  Many Nebraska libraries have this Nebraska alphabet book.  Yet I do think this book is worth personally owning for anyone who loves Nebraska, even if you are way beyond learning the alphabet!  The author has also written an additional book called Husker Numbers where she counts through the state in much the same format.  Both great books to check out!