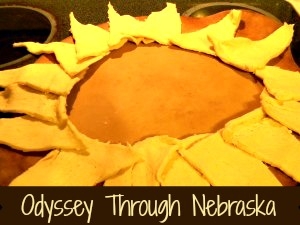 Surprisingly  these days you will almost always find crescent rolls in my refrigerator.  This ingredient is essential to my new go-to recipe: the savory ring/ edible wreath.  I have eaten these before – Pampered Chef parties used to feature them often.  (You can find a few variations on food.com)  Once I realized that this was a quick dinner and was a great way to use up leftover meat and vegetables, I have made this often.  Another good reason: an edible wreath is always a hit around here!
First, you unroll two packages of crescent rolls.  Overlapping them around a pizza pan or baking stone, you will create the beginnings of a wreath shape. (The wider ends of the triangle overlap as a circle in the middle.)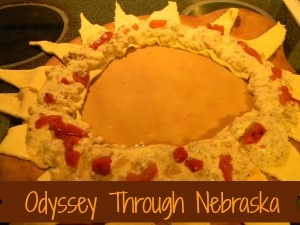 Press the edges together.  Then add your filling.  You will need 3-4 cups of filling.  This time I used leftover sausage, roasted red peppers and alfredo sauce.
This was almost too much filling as some did spill over the edges.  (A good excuse to clean my oven!)  Then you fold the narrow part of the triangle to the center, tucking it under.  Once you are done, with this part, the creation looks like an edible wreath.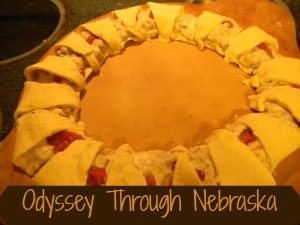 Bake at 375 for 15-20 minutes.  Basically you are browning the rolls and heating the filling.  You always want to use cooked meat – raw would not cook up well at all, plus would not be good with the dough.
Endless Edible Wreath Ingredient Combinations
Suggested flavor combinations: ham & broccoli; pepperoni with pizza sauce; taco meat/cheese (a variation known as the Taco Ring in Pampered Chef circles).  Basically any type of sauce combined with meat and cheese will work.  Options are almost endless!  This is an edible wreath you can enjoy year round.  A great idea for ringing in the new year if your plans involve staying home as opposed to going out!