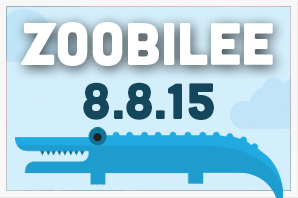 What do you do when you turn 50?  You have a giant party, of course.  This is definitely true for the Lincoln Children's Zoo as they are having a celebration ALL DAY.  Best part – this event is free to the public.
First of all, you HAVE to watch the video below.  As you may know, I grew up in Lincoln.  The Lincoln Zoo was MY zoo.  Seeing the pictures of days gone by did make me a bit nostalgic for my children.  While many things have changed, I am glad "Leo the Lion" is still in the same place – ready now for my children's use.  And that the large dinosaur "statue" is still there – even if it now over the children's play place instead of over a fountain.  The Lincoln Zoo has a lot to offer kids.  Today's activities compound that!
The events are happening at the Pinnacle Bank Arena from 10-6, and the complete schedule is up on their website.  If you arrive to the Lincoln Railyard soon enough, free parking is even available.  Otherwise, you can park all day in the garage for just $5.  Not a bad deal either way.  Live music, animals and even Larry the Cable Guy.  What more could you want for an August Saturday?  (I can say that since Husker football does not start this year until September 🙂 )  If you do happen to go, please post some pictures of the fun on our Odyssey Through Nebraska Facebook page.