As you maybe can guess, I was treated royally by Lincoln Beauty Brands, but I am still able to let you know what I really thought of the experience.  Read on to learn more. 🙂
I am not exactly a "girlie girl."  After attending the Grand Opening of the Lincoln Beauty Brands, that just might change a little bit.  After starting my week-end off with a relaxing scalp message and a fresh new hairstyle, I could definitely get used to this type of treatment.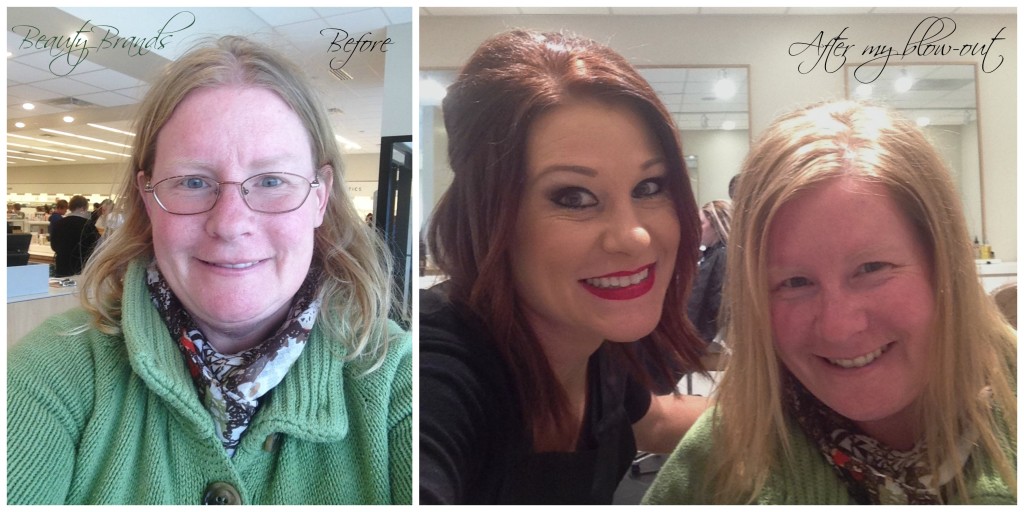 Perhaps I should rewind a little bit.  When Beauty Brands contacted me to let me know that they were coming to town, I had not heard of them before despite the fact that they are a Midwest company.  That is because I am your typical Mom who tends to worry about taking care of everyone else.  Personal pampering is rather low on my list.  When they offered me a complimentary blow-out, I was not even sure what that was.  Sitting in the salon chair, I told the stylist, Bobbi, that I was up for whatever.  I am glad that I did because I LOVED the end result.  Now I am just wishing that I had paid more attention to how she did her magic.  Not sure that I could attempt to recreate the effect at home.  Guess I will just have to go back for another experience sometime … 🙂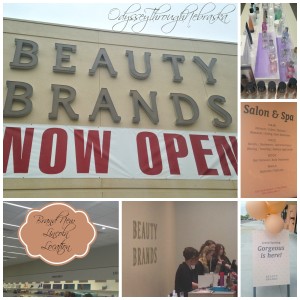 Lincoln Beauty Brands Store Characteristics
As far as the store itself, I think Beauty Brands features an interesting concept that is going to be quite appealing.  On one side, they are a full service beauty store.  Not only do they have hair care products, but they also feature a wide range of make-up and fragrance products as well.  Part of what makes this unique is their beauty bar options.  All around the store, little glass "shelves" are set up with products they are selling.  You can try before you buy.  Even hair care products.  Since I am not as familiar with brands, I really do not even know what is available.  Simple solutions are available that will help me look a little less like a mom and more like a woman.
Perhaps my favorite part about this side of the store is that there were plenty of beauty consultants around to advise me on getting the look that I want.  Normally I want to avoid the make-up counters in large department stores.  Yet here I did not feel intimidated.  In fact, I asked questions to two different sales floor associates on both hair and make-up products.  Both answered my questions without trying to convince me to buy out the whole store.
One of the goals that they have is to send you home with product that you will actually use rather than hide in the back of your cupboard.  You know – the beauty product corner of shame that mocks you every time that you reach for a brush.  What I now own will be front and center – readily accessible for me to use it!
What I brought home from Lincoln Beauty Brands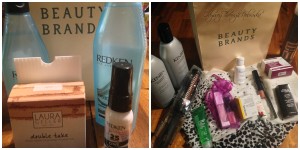 On the left is the product that I purchased – the volumizing shampoo and conditioner recommended by my hair stylist.  This was at a discount and came with a small (bonus!) leave-in conditioner.  Not pictured – the brown mascara that was on the Grand Opening sale that makes my lashes oh-so-luxurious.  (Perhaps I should stop there with my descriptions. Quite quickly you will see that I will not be hired anytime soon to be a beauty care products copy editor!)  My final purchase was a high quality powder that can be applied either wet or dry – I need to stop pretending that my skin is not blotchy!
On the right is all of the product that "Beauty Brands" sent me home to try – told you that they treated me like a queen.  If you are more educated on beauty brands than I am, I bet you are seeing some familiar logos.  This is a very small sampling of their 6,000 + products available.  Quite certain I will have new favorites soon!  Please note that these are high quality products – do not expect bargain basement prices.  They did have many sales going on throughout the store.  But also remember that you do get what you pay for!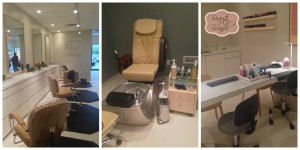 The Lincoln Beauty Brands Spa Side
Now to the spa side of the store … I am not quite sure how they managed this feat, but despite the fact that the store side was quite busy, the spa side felt peaceful.  This was even with other clients simultaneously using the services.  (I had to perform a bit of trick photography to avoid people since I am not sure they really wanted to show up on my blog without permission! 🙂 )  Anyway, the rooms are sectioned off in such a way that you feel like you are getting a personalized experience.
In the pedicure room, only three chairs are set up side-by-side.  This means that you will feel relaxed as they polish your toes.  This is much better than staring at a room full of complete strangers across a brightly lit room who are all being supposedly pampered at once.  At some point, I will come back with my daughter for a pedicure as the service would feel like a "mommy spa date" rather than sitting at a warehouse outing.
As I look over their "Salon and Spa Services," an aspect that is appealing is that you can choose your level of service based on your budget or time allotment available.  I was going to list all of their available services, but I am not sure that there is enough space in this post for all of the options.  Here are a few of the basics.
Hair: Cuts, colors, textures, blowouts, styling (from up do's to braids and straightening), extensions
Face: Lash extensions, various types of facials, brow bar, make-up applications
Make-overs: for the bride and for the novice – free with product purchase
Body: Hands, feet & nails; hair removal and body treatments
Beauty Room Packages: top to toe; good to go; natural beauty; beautiful bride
Currently they do not have a massage therapist on staff, but they hope to add those services soon.  Because they have kept the spa area smaller, advanced appointments are usually needed.  Although that might seem slightly inconvenient, I think that results in a more personalized service.
Why I ultimately recommend Lincoln Beauty Brands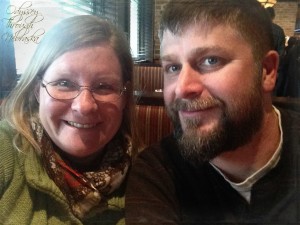 What is the best part of my Lincoln Beauty Brands experience? Simple.  I left feeling beautiful.  Going out to dinner with my husband, I felt relaxed and ready to present my best self to the world as opposed to my usual tired self.  Perhaps there is something to this "girlie girl" persona.  Thank you Beauty Brands for how you made me feel!