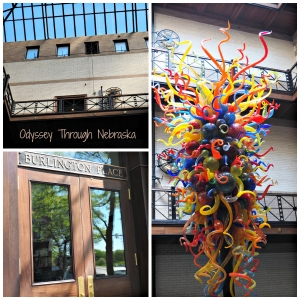 How much do you know about the history of Omaha, Nebraska?  Since I have been purposefully learning about Nebraska for the past several years, I thought I knew quite a bit.  Until I took an Omaha tour with the Nebraska Tour Company.  Then I knew that I had a lot to learn about Omaha.
Our tour guide was a former social studies teacher.  He had done an in-depth study of Omaha and knew the back story of many of the places that we would drive by.  I would highly recommend taking one of the Nebraska Tour Company tours around the city.
Our particular expedition gave us a glimpse of several of their various tour options.  We started in the Burlington Place building.  This unique Omaha attraction was designed by Kimball the famed architect.  All sorts of details are still apparent in the architecture.  Now that there is a Dale Chihuly sculpture in the center, this building is even more of an amazing work of art.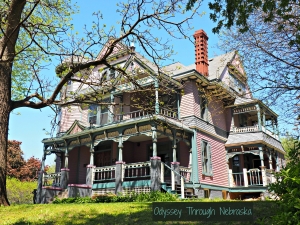 We did some walking around the Old Market area for certain parts of the tour.  But we also climbed on the mini bus to drive into other parts of the city.  One impressive area is the homes around Beemis Park.  Many of these jewels have been around since Omaha's early days.  These homes were built to last.  The upkeep (especially paint) must be a challenge at times.  But I am glad that this part of town has been restored and maintained.   Hearing about some of the society people who used to call this area home was definitely interesting.  The tour guide knew all sorts of stories.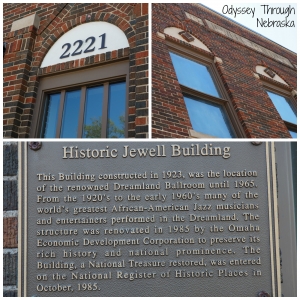 Our trips to Omaha often involve the downtown area, so I had not been to North Omaha.  I enjoyed learning about all of the events that used to take place in this part of town.  The jazz scene was definitely alive and well in this part of town in the first part of the 1900's.  The Nebraska Tour Company brought this area to life.
To take a tour with Nebraska Tour Company …
You can visit their website: Nebraska Tour Company to find out about all of the tours that they offer.  Some of the tours are definitely slanted toward grown-ups.  Both walking and driving tours are available.  Cost varies depending on the size of your group.  You can also call 1-866-996-6242  (1-866-99-Omaha) to book one of their events.  If you enjoy culinary tours, you will want to check into the other branch of their company.  Through Discover Omaha, you can take eight different tours around Omaha.   Nebraska Tour Company and Discover Omaha offer so many way possibilities in learning more about Omaha.