In the center of north central Nebraska lies 19,931 acres devoted to the protection of Nebraska wildlife.  A dozen years after Nebraska became a state, this area was a military fort from 1879 to 1906.  At that point, according to History Nebraska, sixteen thousand acres were set aside for The Fort Niobrara Wildlife Refuge.  Over time, the boundaries have increased but the purpose has stayed the same.  If the pictures are not enough to convince you, here are seven reasons to visit the Fort Niobrara Wildlife Refuge, a Nebraska treasure.
Nebraska Wildlife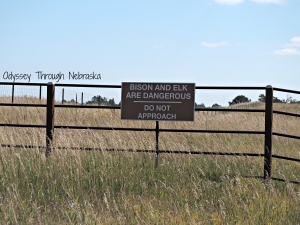 Reason One: perhaps the obvious starting place is the Nebraska wildlife.  Animals require protection.  People want to see animals.  This safe place allows for both factors to happen.  As you can maybe guess from my picture, I did not see any bison or elk on my trip to the refuge.  Maybe the animals were grazing elsewhere.  Maybe I did not which paths to drive.  Regardless I do agree with the sign. While buffalo and elk may look like picture worthy subjects, they are not close up.  When they feel threatened, they will out for themselves, not for you.  In order for this location to stay a refuge, please follow the sign.  And if you have managed to take pictures of these fine animals at this Nebraska location, please share them with me.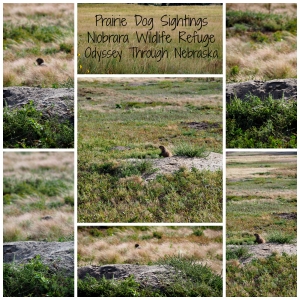 Reason Two: While I may not have seen the big animals, I did see smaller Nebraska wildlife.  Trying to capture prairie dogs on film is rather challenging too.  But only because they seem to like to play hide-and-seek.  Lewis and Clark actually gave this animal its name on their 1804 expedition.  Legend has it that the men thought they sounded like little toy dogs.  But if you read their journals, the name seems to have originated with the French.  Regardless, these field animals are more closely related to squirrels than to canines.  To protect these animals, visitors must stay in their vehicles.  As their tunnels are rather close to the road, this requirement does not limit photograph opportunities.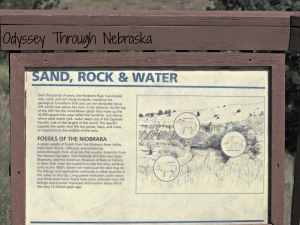 Reason Three: The potential to see former Nebraska wildlife. Besides protecting plants and animals today, the Fort Niobrara National Wildlife Refuge protects fossils. With all of the moving water, this location definitely fits the area for fossil finds.  Long ago animals that died have been found preserved here.  Although no digs are currently set up, visitors may find former animals here. If this interests you, please check with the park staff to make sure you do not harm anything in your hunt.
Enjoying the Niobrara River
Reason Four: The scenery is spectacular.  Miles of roads allow you to see this refuge.  Beyond the Nebraska wildlife, there is so much beauty on display.  As you drive through the park, hundreds of photographs are waiting to happen. The Niobrara River winds through the forested hills.  The views are spectacular.  Both Boreal forests and Eastern deciduous forests grow in this refuge.  Coniferous trees are also plentiful.  With the large variety of native grasses, botanists and arborists also have areas worth protecting.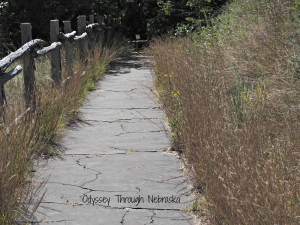 Reason Five: The Niobrara National Wildlife Refuge also contains places to hike.  Although most of the park is only accessible by car, people can explore certain areas.  This allows visitors the chance to see more Nebraska wildlife.  Deer run throughout the park.  A large variety of birds call the trees home.  One word of caution: the paths can be a bit steep.  Some trails are dirt.  Other paths are paved, but staff may not necessarily maintain them.  Because parts of the park are isolated, solo hikers should proceed with caution.
Niobrara Water Activities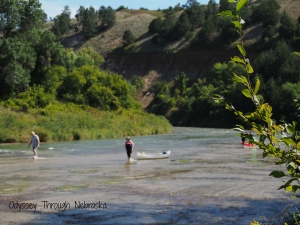 Reason Six: The Niobrara River is easily accessible at this point.  You can hike down to the river to wade.  Because this river is usually shallow, points are passable.  To explore the water, visitors should wear life jackets.  Certain parts of the river may not be level, and there are parts where the water is moving rapidly. Various nearby outfitters will rent out canoes.  Even more people seem to prefer to rent or bring along inner tubes.  Some of the tubes can even fit multiple people which works great for groups and families.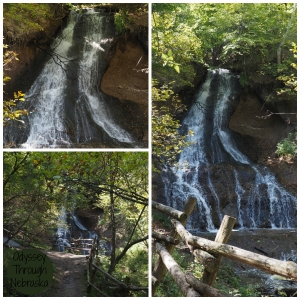 Reason Seven: Fort Falls.  If you follow one of the hiking paths, you end up at Fort Falls.  While this may not be a tall set of waterfalls, seeing the river cascade down the rocks does take your breath away.  Since the water comes from a spring, I would imagine it is rather cold.  Although you can wade in nearby Smith Falls, I did not see anyone climbing in the water at this point.  Observing the water from the path appears to be recommended.
Visiting the Fort Niobrara National ( Nebraska ) Wildlife Refuge
This park is open year round from sunrise to sunset.  Evidently the Fort Falls are equally as spectacular during the winter.  The Visitor's Center may not be open everyday, so plan accordingly.  Although no admission is charged, fees and restrictions do apply for fishing, hunting and boat launching.