Have you ever had something in your life that started small and then snowballed?  I think that describes my blogging in 2014.  A bit out of control.  Especially when you add the other articles I have been writing.  Four blogs + 3 magazines = One tired mama.  I have been knowing that change needs to come.
Looking over my blog, for the past 18 months, I have not missed a "Wordless Wednesday, " nor a follow-up post, even if a few of those were a day late.  I do really enjoy "taking" you to places around the great state of Nebraska.  But I am also seeing burnout on the horizon.  Not to mention the fact that I cannot keep up with the pace of 3-6 posts per week.  Plus I think even my own family cannot keep up with reading what I am writing. 🙂
My new goal is this – to go back to my original focus of celebrating the people and places of Nebraska – BOTH past and present.  One to two times a month I will tell you all about a place you can go visit today, starting with my Wordless Wednesday post, then following up with an informative explanation post a day or two later.
On alternating weeks, I plan on continuing to share with you our journey cooking around the United States from our Nebraska kitchen.  Plus I am hoping to get to write more Friday Flashback posts – I have missed sharing about Nebraska of former year. 🙂  I do plan on still hanging out at this site two-three times a week – just not four to six!  A much better balance for me!
Most of you probably would not even noticed had I not explained that I am slowing down.  But by putting it in writing, I am reminding myself that I want to be the one directing the blog.  Spacing out my posts will probably help all of us. 🙂  Especially my kids.  And my husband.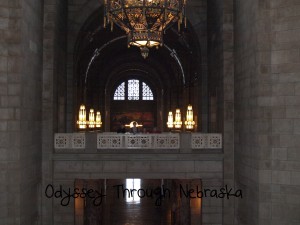 This picture is from a recent trip to the Nebraska capitol.  Like too many other days, I was trying to finish up some writing projects, so were late and missed a tour appointment.  While we were waiting for the next available time spot, we had the fun of unexpectedly "running" around the 2nd floor of the capital.  Spending the time exploring with my family is a large part of why I write this blog.  As this post attests, sometimes we all just need a reminder of what our focus needs to be.
P.S. Just in case you were wondering, the pictures from this week's Wordless Wednesday were from these places:
February sledding at Mahoney State Park
Spring Creek Prairie Audubon Center
Orchid display at Lauritzen Gardens – this was the tropical part
The tire tower at Martin's Hillside Apple Orchard
Although 2014 was a busy one, it was still a good year.  I am excited about slowing down to enjoy 2015 even more!