Discovering a wonderful community of travel bloggers was a surprise and has been an unexpected blessing in this journey.   Before I started writing about my home area, I had no idea that others were already following a similar path.  Now if I am planning a trip or wanting to know more information about an area, I look for travel blogs. So for this Follow Friday Midwest Travel Bloggers are featured!
Although I may not ever get to meet all of them in person, I still consider them to be social friends.  The ones that I consult whenever I have technical questions or when I want to add places to my bucket list.  They are also the ones I consult when planning on visiting a new area.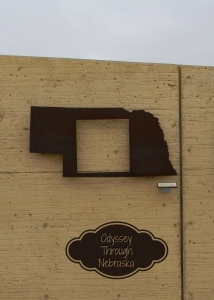 Nebraska Midwest Travel bloggers:  Many great people in my state write about much more than just travel.  Yet since I do not want this post to go on forever, I will only mention the ones that talk about places to go.
Kim from Oh My! Omaha was one of the first bloggers to encourage my new blog.  I have continued to bug e-mail her with questions about what is happening Omaha.  She has been a great resource and writes a fantastic blog.
As if one great Omaha blogger is not enough, there is also Family Fun in Omaha.  Julie and her family also suggest so many great activities, plus it is kind of fun seeing two different points of view of the same town.
Although they do live in Nebraska, The Walking Tourists do not stop at our state.  In fact, they go far beyond our state.  In fact, where they are next is always a fun surprise.  Great people!
The Postcard Jar is another blog where the couple is based in Southeast Nebraska, but they (and their followers) travel far beyond.  Several of their posts do reflect visits close to home.
Midwest Travel Bloggers Beyond Nebraska …
Dominque of Midwest Guest also makes Ohio seem so appealing, and she brings historical places to life.  While some bloggers might post a few pictures and call it good, she takes you to school.  And oh the lessons you can learn if you follow!
Featuring primarily Ohio, Tonya and her family, the The Traveling Praters have managed what our family would love to do someday.  Traveling about in an RV.  Her kids are a bit older than mine, so I keep mentally filing away articles about traveling with a teenager.  She is such a great resource and has also been an encouragement to me.
Two Moms, A Little Time and a Keyboard (Chicago area) When I went to Chicago this fall, I was really sad that I did not have enough time to get to check out any of their great suggestions.  I just discovered that these ladies also have crafts and recipes.  Plus since they also have links to their U.S. travels, this site is more versatile than even I realized.  Follow along!
Going to be hanging out in Indiana's capital city?  Take Indy with Kids with you for great suggestions on places to go!
Little Indiana is another fun Hoosier blog that features places to go across Indiana.
Can't leave out the dads in the group!  Adam of Flyover Country may specialize in his hometown of St. Louis, but he does not just stop there.  He knows lots of fun places to go, including where to find the best doughnuts.  Sometimes blogging is a tough job …
If you decide to follow along with Sara, you have two options.  Her first blog is a bit obvious … All in an Iowa Mom's Day.  (I love her rural pictures!)  Her 2nd might take you anywhere –  you will want to Travel with Sara wherever she might go.  She is kind lady who also happens to be connected!
Unsure of your destination?  Follow along with Connie at Midwest Wanderer for so many great suggestions! And I bet you can guess who needs to follow Wisconsin Parent – a comprehensive guide to the best in that state!Going to the cities with double the fun?  phenoMNal Twin Cities From activities to food to discounts, this site is a good one.
While this next blog focuses on travel all throughout the world, I would be remiss in not mentioning the Wandering Educators.  The moderator, Jessie Voights, has been such an encouragement to me.  This blog about all sorts of travel is a definite one to follow!
All of them also happen to be on Twitter in case you would rather follow people that way.  While I have only met some of them in person (so far!), I definitely enjoy interacting with them online!  These Midwest Travel Bloggers are a great group of people to be associated with!