Sitting here this morning in my darkened kitchen, I am pondering one of the deeper questions of life.  Can we teach history without the horror?  Should we sugar coat the wars, the atrocities the tragedies for the sake of our children?  (As you possibly guessed, I am also sipping on my coffee or my thoughts would not be coherent before 6 am!) How can we portray reality with truth yet temper the stories with a bit of restraint, especially for our children's sake?
Today is a day that has become momentous in the life of our country.  Yet 14 years ago, it was just another Tuesday in September.  In fact, I am certain I was still sleeping at this hour.  (Oh, how children have changed my sleeping patterns forever!)  One year ago I wrote about what I was doing when I found out about the plane attacks.  Anyone across our country who was old enough to remember possibly stored their own images of a day that started sunny in Nebraska but quickly clouded over at least by reality.  I also shared the feature image of a flag that is on display at the Strategic Air and Space Museum near Ashland.
To me, it is the perfect picture of what we need to reflect on today.  While it is hard to tell from a distance, each one of the red and white lines was pieced together to help us visually remember.   Separately, the squares would not have any impact, but together they help us to see that unity can be powerful.
Now before we all break into "We are the World," I want to point out that worldwide unity will never be a true possibility.  While today is a day of tragedy for many, for others, today was a day of triumph.   A day when so-called martyrs felt free to extinguish the lives of others for the sake of a cause.  Yet true liberty involves self-sacrifice – looking out for the interests of others as was demonstrated in a Pennsylvania field miles from here.  As was demonstrated almost two thousand years ago from a cross on a hill.
This all being said, I guess I am a proponent of telling the whole story.  I want my kids to see the reality of what was before. Obviously this does look a bit differently for my 12 year old as opposed to my 6 year old.  Yet to leave out the tragedy part, we are not truly remembering.  Without recalling the horrors, we miss the heroism.  This flag of honor recalls those who truly sacrificed.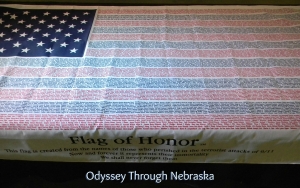 If today is a day that you want to gather together to reflect, there are several events taking place in Nebraska.  While many local areas are having their own sorts of ceremonies, these are the events that I discovered while searching online.
Lincoln ceremony 11 am
Strategic Air and Space Museum Remembrance Program/Lunch 11:30-1:00 (free for military)
Albion Freedom Walk 6:00 p.m.
Bellevue Memorial Ceremony 6:00 p.m.
P.S. Our Lincoln newspaper shared 25 iconic images from 14 years ago.  Definitely preview the photographs first, but this may be a way to help bring a bit of truth into today's reflections.