Whether it be mentally or actually, if you live in Nebraska, you might just have been counting down to today.  The first Husker football game under Coach Riley.  Now I know that this may not be the case for everyone who calls this state home.  Yet for the vast majority of Nebraskans, today is a good day.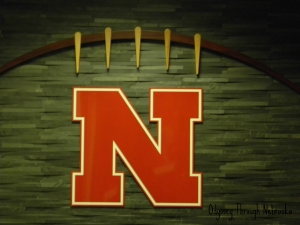 I mostly liked Coach Bo and was sad when he left.  Possibly more sad that Coach Brown was leaving … Yet I think that Coach Riley is going to introduce a great era of Nebraska football.  I must confess that I watched his December introductory football press conference in its entirety, and the more I heard, the more impressed I was.  That was many, many months ago, so I think I can speak for all of the fans, that we are glad today is finally here.  Glad to be watching the game inside rather than in person today – upper 90's are predicted.  Pretty sure that the fans will have fun anyway.  Well, other than being a lifelong Husker, I am not a football expert.  But I did enjoy learning more about the history of our team for one of my early blog posts.  Discovering that one person's words connected both the Capitol and Memorial Stadium was definitely interesting.
Previously on this blog, I also wrote about going with my son to a game as well as taking a tour of Memorial Stadium.  Plus I gave you suggested on Huskers at the Corners – ideas on where to eat and watch the game across the state.  Since that was awhile ago, hopefully all of the places still host the game.  Wherever you watch, may it be a fun afternoon!  Go, Huskers!