Good morning!  I am finding it rather hard to believe that we are entering Week THREE of my bloGIVErsary.  Not sure if your summer is going quickly, but ours is flying by!  This morning my kids are at a VBS, so I have a quiet house.  A good time to remember my year one top ten favorite "Odyssey Through Nebraska" posts.
Originally I thought about counting down my favorite places that we went this last year.  Then I decided that would be too difficult -I honestly have loved all of them for various reason and could not narrow them down.  Picking my favorite posts is a bit easier because certain ones stick out more than others, partly because of the memories that they contain.  I will confess that a few of them ended up being series that I featured.  This is my blog – I can formulate my "Top Ten" how I want.  Right? 🙂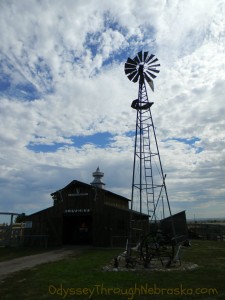 10) How They Named Nebraska Counties series Technically the last few posts on this link are not applicable, but the first few posts have to do with how the Nebraska counties were named.  I discovered Perkey's Place Names last summer, and I still use it as a reference.  After all if you are a Nebraskan, discovering whatever happened to Izard County is quite interesting.
9) Homestead High Plains Homestead series While my children wandered about putting everyone in jail, I had fun taking pictures while practicing changing the settings on my camera.  This was really my first photography series and where I discovered that I actually liked being behind a camera.
8) Dueling Desserts We REALLY like homemade ice cream around here.  Thankfully my Dad has been on a kick of making it lately, so we have all benefited.  Getting to feature the recipes of both my mom and mother-in-law was special to me!  The only thing that makes this dessert better is when the ice cream is topped with my Grandma's hot fudge sauce.  Hmm … do I sense another post coming on?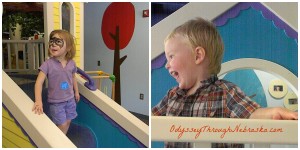 7) Kit's Corner at the Lincoln Children's Museum First of all, we LOVE going to the Lincoln Children's Museum!  But when I learned about the story behind the toddler area, I was inspired to write about the woman whose life had inspired that room and the learning garden at  Union Plaza Place Park.  This was my first "paid" article that I ever wrote, so I know it will continue to have a special place in my heart.  This also was my first photo shoot where I attempted to capture children playing in Kit's Corner.  Although my two subjects were adorable, that process wore me out!  No future in portrait photography for me – I will stick with writing!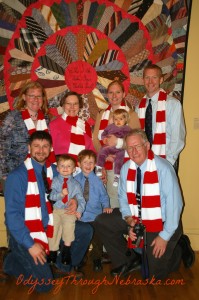 6)Technically this is two posts, but since they were part 1 and part 2, I am including them together. (This is my blog, so I can do that. 🙂 )  The series was My Quilting Heritage, and I wrote about the quilts that my grandmother on one side and great-grandmother on the other side made.  I have been blessed with an amazing family!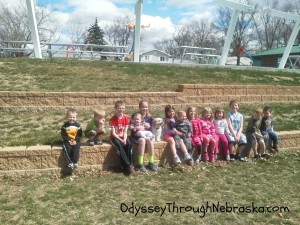 5) Although I tend to choose more local restaurants now as opposed to chain ones, the Aurora Pizza Hut had to make my list.  Why?  Because that is where almost all of the gatherings with my extended family have taken place over the last decade.  Gathering together monthly for birthdays growing up, we used to see each other often.  Now our time together is rare and possibly cherished even more!  The picture above was from right before I started this blog.  Lately we have been getting our pizza to go and meeting at a park.  That way the kids can play, and we can catch up!
4) I almost feel like I am playing favorites as I am picking just one of my children to highlight. But I promise, I really do love all of four of them.  Possibly equally and differently?  Okay, off parenting philosophy and back to the post at hand.  Anyway, this was a beautiful September afternoon.  Armed with cameras, my middle son and I had fun taking pictures of nearby First Plymouth Church.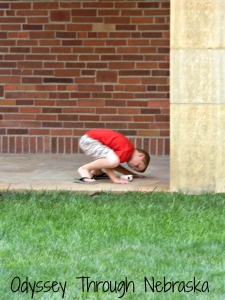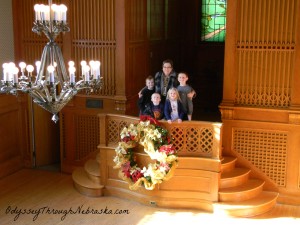 3) While it was a bitterly cold day, this was one of my favorite outings all year.  Partially because I am a big fan of Christmas! I loved getting to go to Joslyn Castle  and Lauritzen Gardens at Christmastime.  (There I go linking more than one post again!) Especially seeing the poinsettia tree – I definitely hope to make that an annual tradition!  My favorite part of the day was the company – my Mom joined us on this outing.  I LOVED having her along!
2) This was a VERY fun outing as my husband went with us.  My kids also each got to bring a friend, and we took BOTH Odysseys to our destination.  Going tobagganing was a great way to spend a winter's afternoon.  (Two of our kids' friends' missed this part, but we enjoyed having them with at the Indoor Play Center – I had to still include them in this day!)
1) This last post is my favorite for several reasons.  First of all, I love the mission behind Back to the Bible.  In fact, I was privileged to write about their 75th anniversary in this July's edition of the L Magazine.  What means even more to me personally is the fact that we had our wedding reception there.  As my husband has proclaimed that he is my biggest fan, I thought that ending with this post was only fitting.  Thanks, my favorite person, for supporting me on this journey! Love you!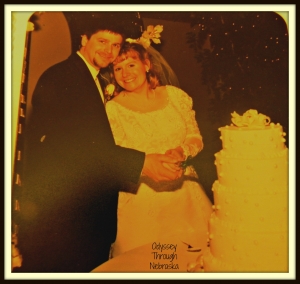 I hope you enjoyed my collection of "Year One Top Ten Favorite Odyssey Through Nebraska" posts.  Later on today, I will be announcing my next giveaway.  I will give you a hint – it has to do with one of the places mentioned in this post.  Any guesses?
P.P.S. This post was inspired from a bloggers challenge that is being hosted by LivLaughLove.com  If you also happen to be into writing and social media, her post on tackling Facebook engagement is fantastic.  I would highly recommend getting her free e-book which you can do simply by signing up for her posts!