Banner County in Nebraska
Created  by legislative enactment on November 6, 1888.
County seat: Harrisburg
Nebraska License Plate Number: 85
Banner County was once a part of Cheyenne County in Nebraska.  Original settlers were quite excited about the county and wanted their location to be the "banner county" of the state.  From pictures, you can tell that there is definitely a rugged beauty in this part of Nebraska.
For a town to be "official," they need to have a post office.  From what I can tell, Banner County only has a few official post offices now.  That would be at the county seat of Harrisburg.  Throughout their almost 130 year history, Banner County has had other towns, but most are now much smaller.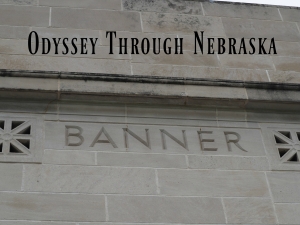 Former Blaine County Towns
Several towns have come and gone, but the number is short enough to list them all.
Banner, the town named for the county, lasted one year.
Bighorn 1912-1914 named by Mrs. Hope Brown, postmistress and proprietor of the Bighorn Ranch, close to Table and Bighorn Mountains.  Not surprisingly, bighorn sheep lived nearby.
Clyde (1888-1895) named for a semi-anonymous resident.
Epworth (1906-1918) Methodist Community that used this name during youth meetings.
Flowerfield (1912-1937) High table land was originally covered in wildflowers.
Freeport (1887-1911) Possibly named for former hometown (in Illinois) of 1st postmaster.
Gary (1897-1921) Named for President McKinley's Postmaster General, James A. Gary
Heath (1890-1917) Early Scotch settler, McLatchky.
Hull (1887-1930) Named for early settler Albert B. who had a store AND a post office.
Kirk (1890-1929) Early settler – the wife was the postmistress.
Livingston (1886-1890).  Ranchman Lee D. – his wife Margaretta was the first postmistress of Banner County's first post office.
Lorraine (1888-1895) daughter of the first postmaster
Myra (1895-1896) Some unknown reason.
Rhoid This post office lasted less than a month.
Van (1907-1912) First postmaster Thomas A. Van Pelt
Vinlon – lasted two months.
Current Banner County Towns
Ashford  One original settler, William Ashford, had located here on Pumpkin Creek.   They managed to be THE county seat before losing to Harrisburg on May 22, 1889.  The town did not thrive long after the county seat left.
Harrisburg, formerly Randall (owned site and was U.S. Congressman from LA, California) and Centropolis.  Community effort by early settlers to obtain county seat were vigorous.  The town's current name is in honor of the capital of Pennsylvania.
Perkey's Nebraska Place Names provided the background info on all of the Banner County towns. You will definitely want to read this book if you enjoy learning about Nebraska history.
Visiting Banner County Today
If you decide to visit Banner County, be prepared to enjoy scenic views of bluffs and ranchland.  One interesting place to visit is a longtime ranch, Hampton Homestead, that is a part of the National Historic Places register.  To learn more about Banner County and to see some beautiful pictures, please visit their website.