Chimney Rock is considered a Western wonder.  Back then, they were traveling through Nebraska Territory to reach a far off land.  Chimney Rock was a symbol of hope for those venturing to start again.  Time, erosion and a unfortunate lightning strike have changed the rock to be not quite as domineering as it once was.  Yet you cannot help but feel that you have stepped back into an important moment in time.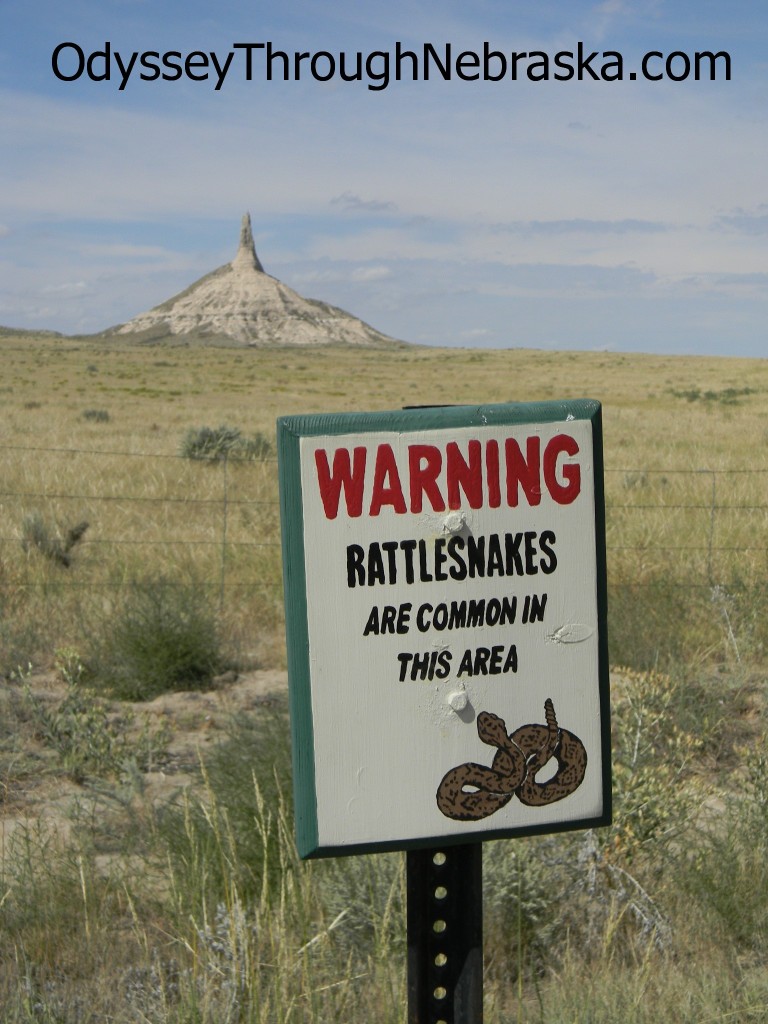 This is about as close as you can get to the monument.  Barbed wire is now around the perimeter as the rock "sculpture" continues to become more fragile through the passing years.  Obviously you do have to watch where you step.  One has to wonder just how many pioneers were affected by the snakes that had to be around even then.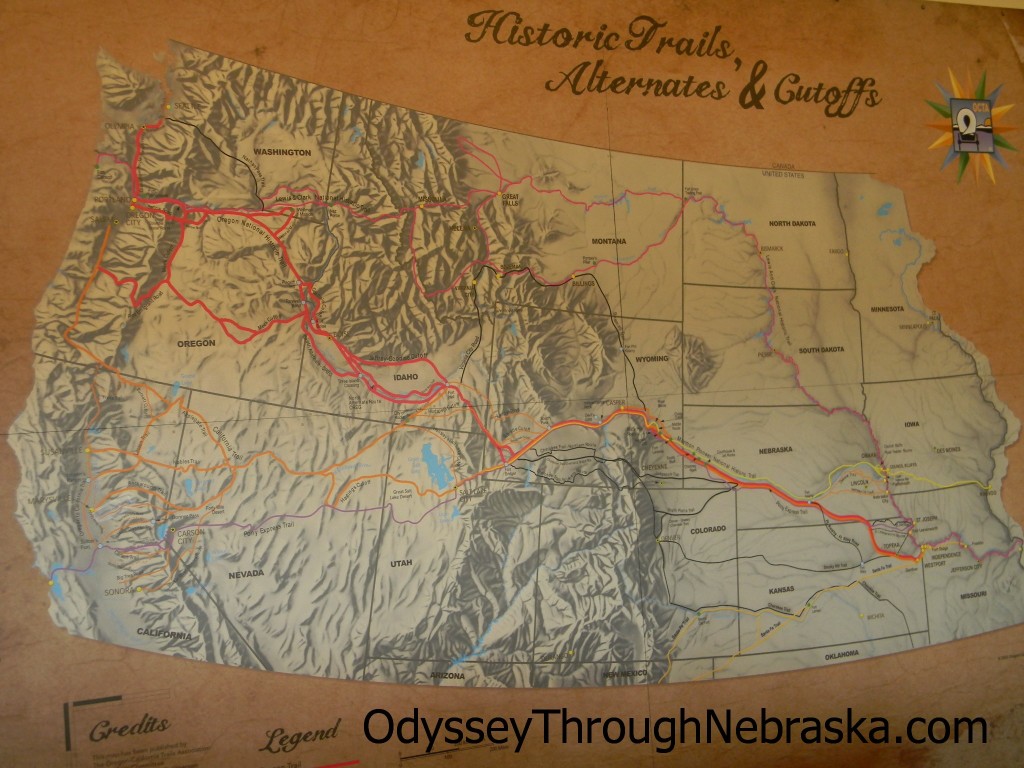 Nearby the monument, you can look enjoy learning about the history of Chimney Rock at Nebraska Historical Society's Visitor Center.  Since kids are free and adults are only pay $3 for admission, taking an hour or two to see the displays is definitely worth the experience. You can see maps of the trails and read the timeline that wraps around several interior walls.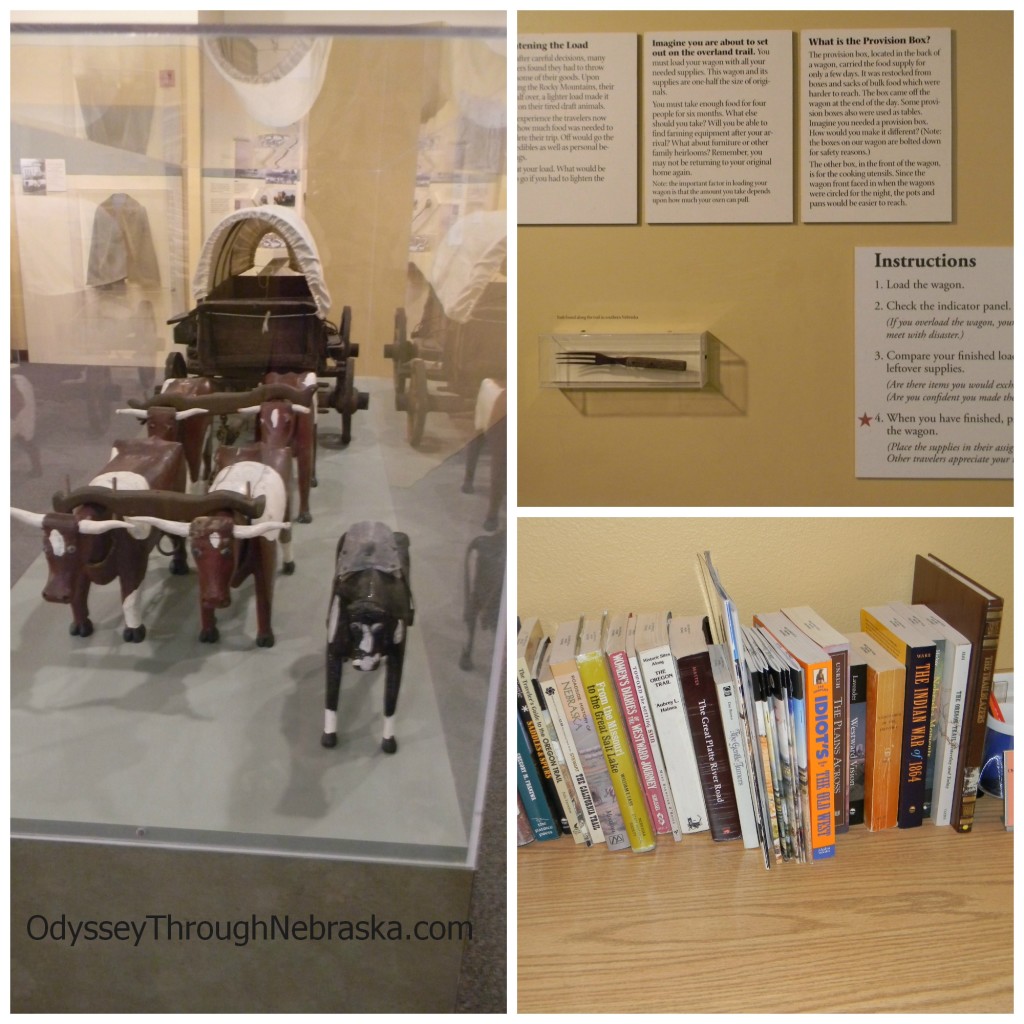 Replicas of various pioneer necessities are on display, as well as actual artifacts from trail times.  They even have a lending library featuring pioneer and Chimney Rock history.  I would have loved sitting there and reading for awhile – pretty sure my family would not have let me do that!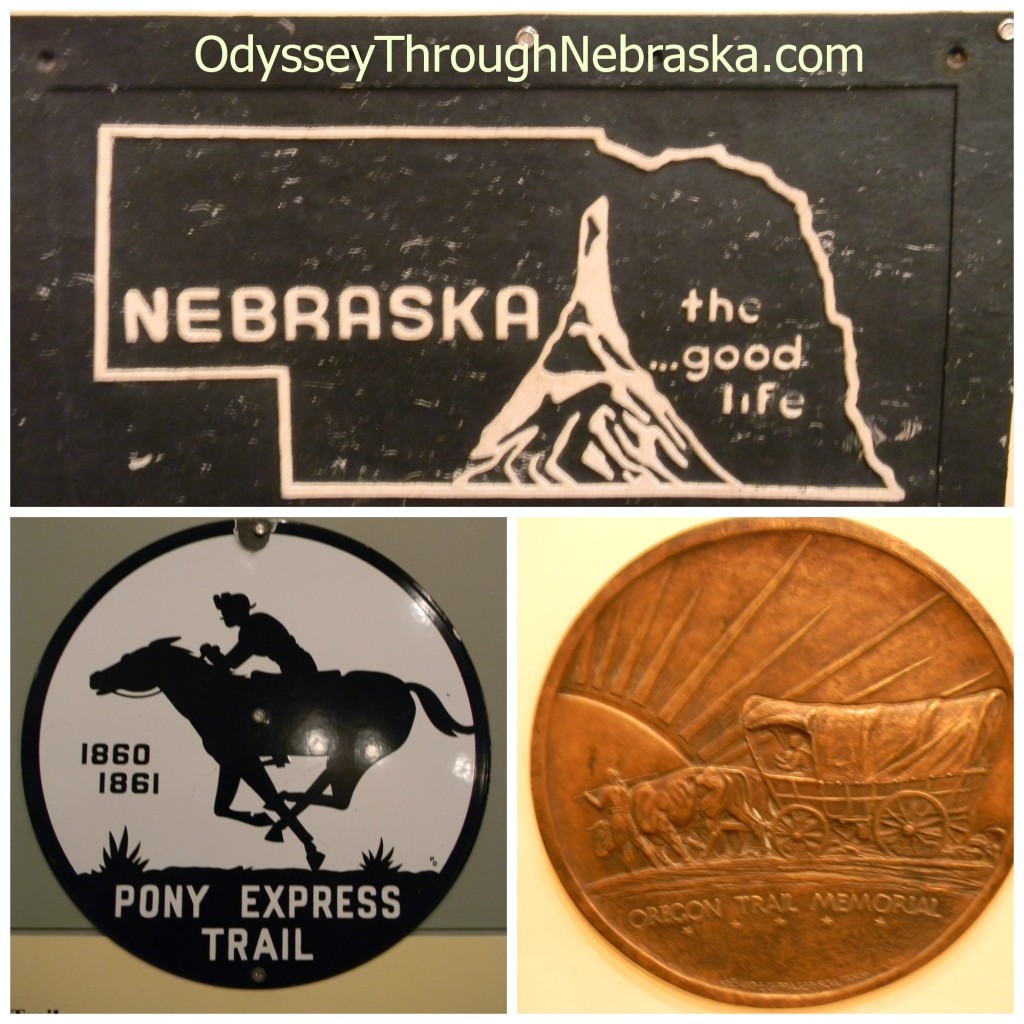 Symbols remembering Chimney Rock and the Nebraska pioneer days abound throughout the display.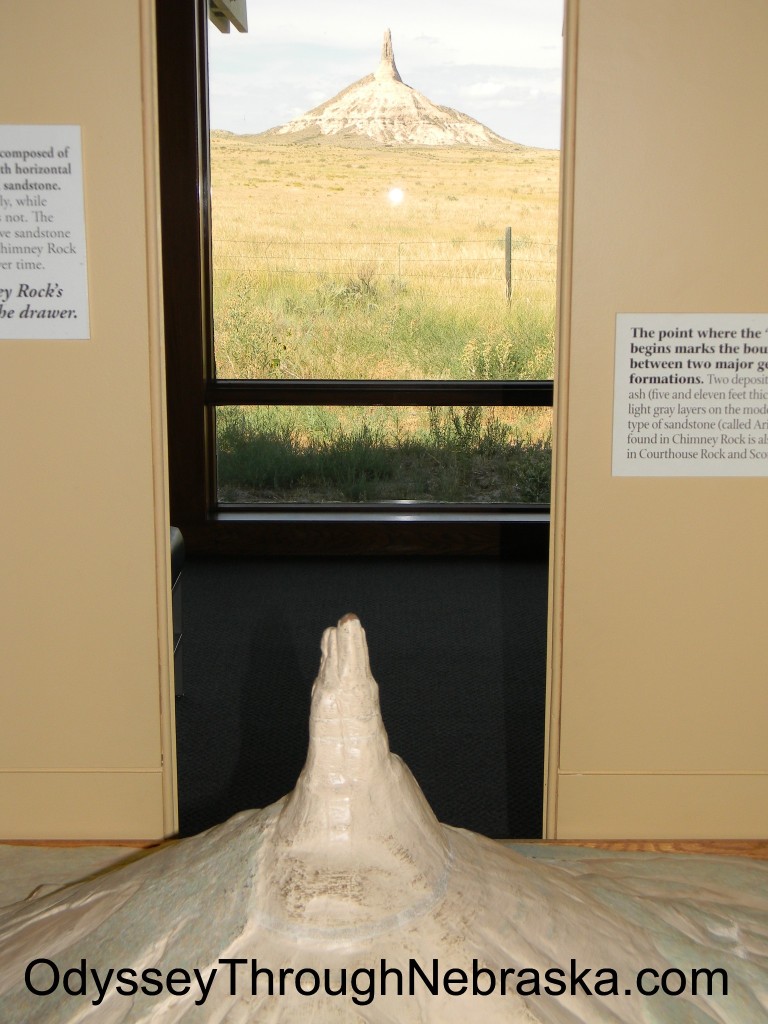 Seeing the perspective of Chimney Rock through the window was very interesting to me.  I think that helped me to relate to the shape and size of the monument since I could not go out and explore myself.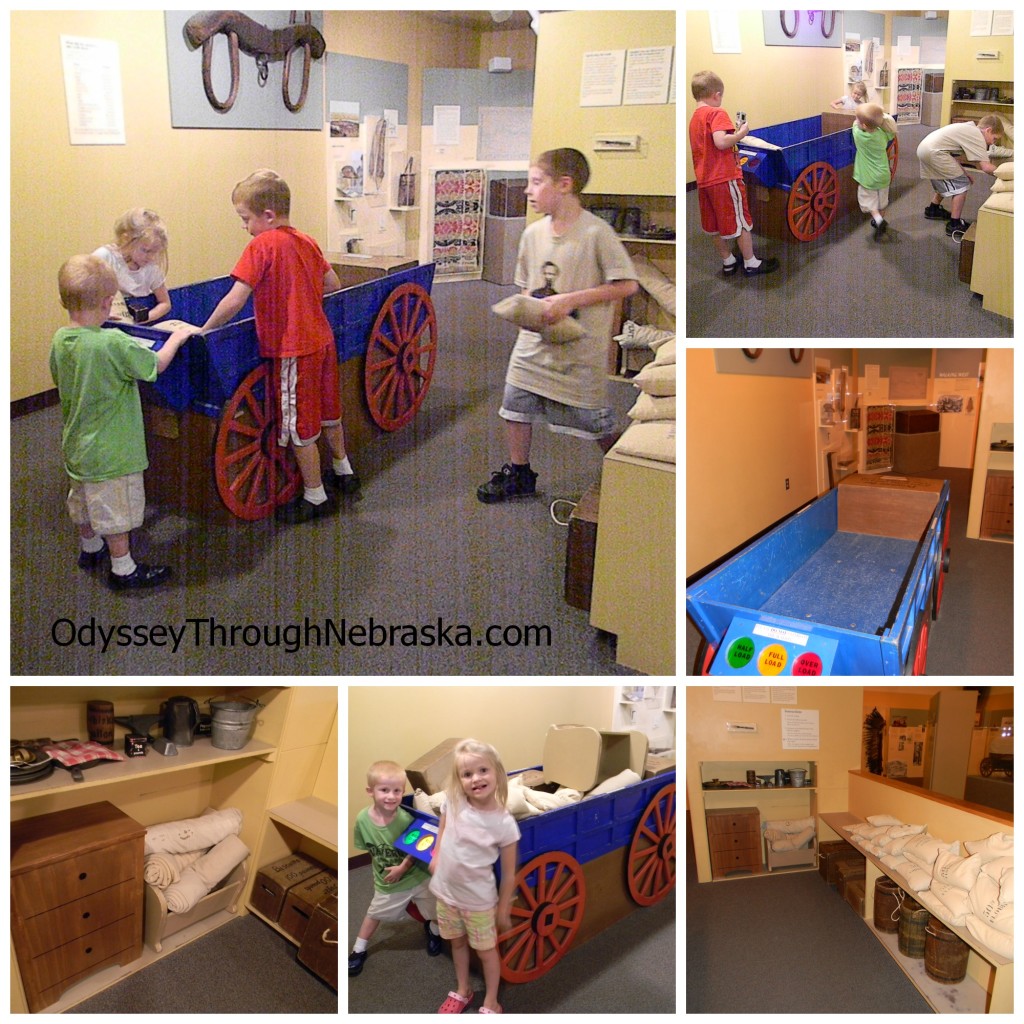 Re-creating the pioneer experience for children is an important part of the museum.  My kids got to pick out barrels of meat, sacks of grain and other sundries for their "long journey" west, then try to load the wagon with enough supplies to last the trip.  Of course if they overloaded the wagon, the red light would turn on telling them they would have to narrow down their items.  (Wouldn't that be good for all of us to have a flashing red light when we have too much stuff!)  Of course, they really had lots of fun later purposefully stuffing every nook and cranny of the wagon box. 🙂
If you happen to be out in Western Nebraska this week-end, you would be able to experience Chimney Rock in an exciting way.  The Visitor's Center just happens to be TWENTY years old.  Possibly a bit young compared to the rock itself, but hey …  On Saturday July 19th, the center is having a day full of special indoor and outdoor events. Listed below is all of the options.  If you look carefully, you can see that they are even having FREE admission all day.  They would love to have you join in the celebration.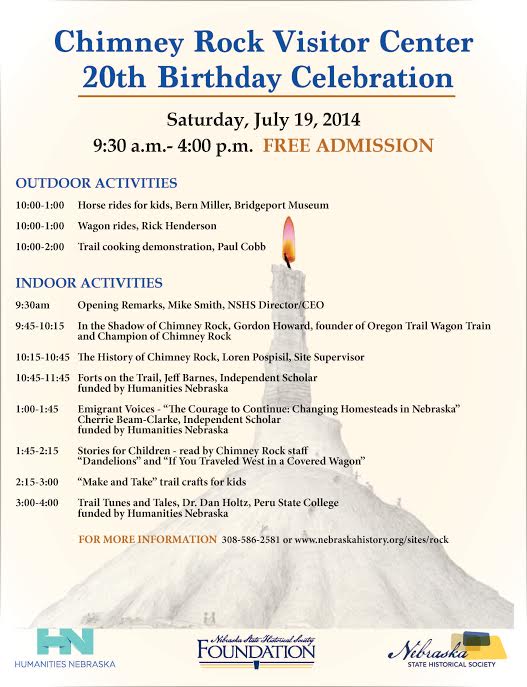 Event list is courtesy of the Nebraska Historical Society